6 steps to a better tactical approach to 'smells and bells' calls
The pre-planning, equipment and exit strategy you need to keep your crew from being the next casualties of a seemingly routine call
---
In this article, we're going to discuss a type of call that every fire department is very familiar with, the smell of something burning in a structure. Over the years, too many of these seemingly innocuous calls have progressed into serious fires that have claimed the lives of firefighters and officers. After reading this article, you should have a clear understanding of how to avoid such an outcome.
How many times have we seen these words used in a NIOSH firefighter fatality review or in a news article: "Light smoke or nothing showing upon arrival of the first units."?
Too often, when the building's occupants first call 911, they tell dispatch that they've been smelling smoke for a while, but don't see any fire. Or when the first unit arrives on scene, the company officer's initial interview with the building's occupants yields the same information.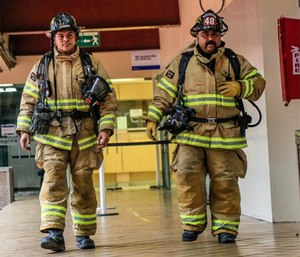 In either scenario, we respond to these types of calls often enough that most fire department personnel have given them a nickname; "smells and bells," and it's not because they have any degree of affection for such calls (the term "nuisance call" comes to mind).
Know fire history and learn from it
But it's that kind of attitude that has led to disasterour outcomes for firefighter and officers in the past, and will in the future, unless you and your personnel take a positive approach to those calls. That's because some other details we see too often in those NIOSH reports are: "Suddenly the whole place turned black and firefighters became disoriented and lost contact with each other." That was the sequence of events in these three firefighter LODD fires:
March 1996, two Virginia Beach (Va.) firefighters die when the roof collapses during a fire in an auto parts store in the early afternoon.
February 2000, two Houston firefighters die when the roof collapses during a fire in a McDonald's restaurant during the early morning hours.
November 2002, three Coos Bay (Ore.) firefighters die when the roof collapses during a mid-day fire in an auto parts store.
Each of these fires made an impression on me as a fire officer at the time. And here's what I learned from them:
Fires can burn undetected in attic spaces, cocklofts or the void between an original flat roof and a a newer pitched roof (what previous generations of firefighters called a "rainroof").
New (at that time) lightweight construction for roof systems (wood trusses, plywood I-beams, and steel web I-beams) was gaining popularity and it didn't take long for fire impingement on those structural members to cause failure of those structures.
A fire service colleague and subject-matter-expert on building construction and structural collapses, Chief Chris Naum, puts it this way; "The clock that really matters is not how quickly you get to the fire, it's how long that fire has been degrading the ability of the structure or its components to resist gravity."
HVAC units and other heavy equipment located on the roof exacerbate the failure of the roof system once fire impingment begins. This equipment is frequently not visible from the street because of false parapet walls used for aesthetic purposes when the structure was built.
Tactical considerations for smell of smoke investigations
Every fire department should develop a SOG for its personnel to use when responding to calls where the occupant reports smelling smoke, or something burning, with no smoke visible inside the structure. A key element needs to be implementing one or more thermal imaging cameras. That SOG should include at least the following six tactical considerations for smell of smoke:
Electrical service: Does the structure have three-phase electrical service? When a structure loses one of those phases, the motors for any electrical equipment powered by that service begin to bog down and increased friction can cause rubber belts to start slow-burn degradation. Many a squirrel has bought the farm by tripping one of the external fuses located on the electrical pole providing service to the building. This should be the first thing to check and rule out.
Equipment: Before entering the building to begin your investigation, make sure you and your crew have the following equipment:
Exit strategy: Always begin your investigation with a clear exit strategy. Clearly identify all means of egress (doors and windows) for the structure, and communicate to everyone where those available exits are before commiting personnel to the interior for any tasks.
Check the ceiling: If there is a drop-ceiling in the structure, begin your investigation by pushing up ceiling tiles with a pike pole every 10 feet to check the area above the ceiling for smoke as you and your crew enter the structure. Use the TIC to look for any heat signatures present; you'll likely encounter smoke before you find any fire.
Limit personnel: Limit the number of personnel inside the structure to the minimum needed to accomplish the above tasks. If conditions deteriorate before you find the seat of the fire, you want to have the smallest number of personnel that need to be accounted for.
Evacuate when necessary: If smoke starts to appear beneath the drop ceiling, immediately evacuate all personnel from the interior and conduct a personnel accountability report for all crews on scene. This appearance of smoke, where previously there was none, indicates that there's a significant fire somewhere above the drop-ceiling, and it's too late to do anything about it from the interior with personnel working below that suspended ceiling. Don't let history repeat itself with you and your personnel in a featured role.
So, we've covered one of the most frequent that most fire departments respond to, what we need to learn from history, and how you and your people can avoid becoming the next entry in fire service history.
Now it's up to you to take your new-found knowledge and share it with your personnel and help them develop a proactive approach to those smells and bells calls.