Billy Goldfeder asks, 'What is worth it?' at FDIC
---
By Jamie Thompson
FireRescue1 News Editor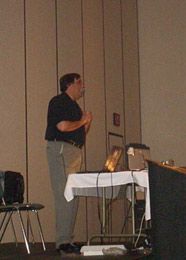 Photo Jamie Thompson
Billy Goldfeder addresses FDIC 2008 in Indianapolis Friday.
INDIANAPOLIS — Firefighter Kevin Apuzzio was just three feet from the front door while rescuing an unconscious woman from a house fire when the floor gave way.
The East Franklin, N.J., firefighter, still carrying the 75-year-old woman, fell into the basement. Both died.
On the second anniversary of Firefighter Apuzzio's death Friday, Billy Goldfeder delivered a powerful message at FDIC that some firefighter deaths are heroic and unavoidable — but others are just stupid.
While the death of the 21-year-old was the former, Goldfeder said, many LODDs can be avoided.
Goldfeder, deputy chief of the Loveland-Symmes, Ohio, Fire Department, said the same message was brought home to him by Firefighter Apuzzio's father when they met at the annual Memorial Weekend in Emmitsburg.
Goldfeder, of Firefighterclosecalls.com, said the father of the fallen firefighter approached him after reading the book that is put together detailing the circumstances of LODDS over the previous year.
"He said to me, 'Billy, I don't understand this. I have read this and been able to identify seven or eight had to die. But the rest of the stories I read, they didn't have to die. At least my son had a lady in his arms, trying to do the right thing. I will never be the same again, I lost my boy. But how will the rest of the families go on?'"
That's what firefighters need to think about, Goldfeder told the FDIC audience, urging them to consider, "What is worth it?"
The fire service has to accept some firefighters will be killed doing their jobs, he added.
"I do not support those who say we are going to eliminate all line-of-duty deaths — we are not," he said. "We are the fire department. We go in and deal with bad shit."
But in terms of reducing those unnecessary deaths, things are slowly improving and "the environment is changing," the audience was told.
"We are seeing more and more cases where firefighters are surviving because they are wearing seat belts," Goldfeder said.
"Look at your fire department today and look at your fire department five years ago — you are operating differently."
Goldfeder went on to stress the need to understand the differences between a SOG and a SOP in improving firefighter safety.

The more you do something stupid, the more it becomes accepted behavior.

Standard operating guidelines are exactly that, he said — a guideline.
"A procedure is law," Goldfeder said. "It's a chief saying, 'This is exactly what you will always do and I am not interested in your opinion.'
"That's how it has to be sometimes."
Unsafe practices, particularly vehicle related, need to stamped out early before they become the norm and almost appear acceptable, according to Goldfeder.
"The more you do something stupid, the more it becomes accepted behavior and the more you let you guard down," he said.
Like immoral behavior, "The first time you're a little nervous. The second you're a little less nervous.
"The fourth, fifth and sixth time, it becomes accepted behavior and that's when you're going to get yourself in trouble."