Dangers of Lightweight Construction
---
By Chief Gary Bowker 
Everyone Goes Home Program Kansas Advocate
While teaching a building construction class a few years back, I discovered many of the attending fire officers did not have any idea about the dangers associated with lightweight construction (LWC) when involved in fire.
I was appalled that these officers — who were responsible for making competent fireground decisions involving the life safety of their firefighter — did not understand the rules of the game concerning lightweight building construction. What's even more appalling is the fact all too many firefighters and officers still don't understand today.   
Lightweight construction is generally considered to be either wood frame or steel building materials, where the roof and/or floor supporting systems are constructed of lightweight prefabricated materials. Also used extensively in today's wood-frame construction are wooden I-beams. These typically consist of particle board and dimension lumber less than 2x4 inches to form the I-beam shape, and are often finger jointed and glued together to create longer length beams.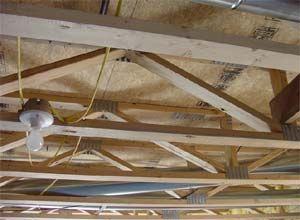 Typical lightweight wood-frame truss construction with metal gusset plates
Wooden I-beams are notorious for rapid fire spread and early catastrophic failure in as little as four minutes of fire involvement. The particle board is often breached by flex ductwork or other utility penetrations, which further weakens the system. It's cheaper and faster for the builder to construct, and this killer method of construction is likely here to stay. 
Most wooden truss systems use metal gusset plates to fasten the top and bottom chords to the webbing, but some are just finger-jointed together with glue. But under fire conditions, regardless whether the LWC is of wood or metal design, it can quickly and catastrophically fail with no warning.
The vast majority of wood-frame dwellings built in this country since the 1970s utilize wooden truss-designed roof and floor systems with metal fasteners and hangers. In addition, many commercial and industrial occupancies now utilize a lightweight truss design. Pre-planning and inspections are critical to know where these killers reside in your community. Regardless of the type or style, a truss is a truss is a truss. They all can be deadly when involved in fire.  
Let me ask you a question: Where was the first multiple firefighter LODD incident in our nation involving the collapse of a bowstring truss roof system at a car dealership fire?
Did you answer Hackensack, New Jersey?
If so, you'd be wrong. The answer is Yingling Chevrolet in Wichita, Kansas, on November 21, 1968. Right here in my own backyard. When the bowstring truss roof failed six minutes after arrival, Fire Chief Tom McGaughey (on the night of his 36th wedding anniversary), Chief Inspector Merle Wells and Firefighters Dale Mishler and Jimmy Austin were killed.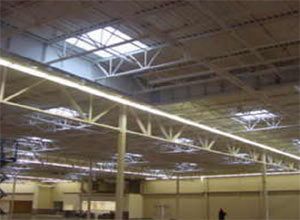 Typical lightweight steel truss construction
Back in those years, the fire service knew nothing about the dangers of truss construction. However, almost 20 years later, on July 1, 1988, we certainly did. The fire in a Ford dealership in Hackensack resulted in the failure of a bowstring truss roof, which trapped six firefighters and killed five. The fallen firefighters were Captain Richard Williams, Lt. Richard Reinhagen and Firefighters William Krejsa, Leonard Radumski and Stephen Ennis.
The lessons learned from this fire were many, and every firefighter today should know them — but it's apparent not everyone does. On June 18, 2007 in Charleston, South Carolina, nine firefighters were killed while conducting interior operations at a sofa store fire.

Why have we not learned from all of these tragic losses? In the 40 years since the Yingling fire, two generations of firefighters have come and gone. And yet our members are still dying in trussed structures. What's to blame? Is it our attitude toward firefighter safety, because we think that it won't happen to us? Is it a lack of tactical knowledge and leadership, which results in firefighters offensively attacking a well involved LWC (usually unoccupied) structure where the only life at risk is our own firefighters?

Gary Bowker is a retired fire chief with the U.S. Air Force, and is the past fire chief with the Sumner County Rural Fire District #10. Chief Bowker recently retired as fire marshal with the City of Winfield, Kansas, a community of 12,000 people. Chief Bowker has 34 years of fire service experience and now teaches part time with Butler Community College Fire Science program and is an associate instructor with the University of Kansas Fire & Rescue Training Institute. He also serves as a Kansas advocate with the National Fallen Firefighters Foundation's Everyone Goes Home program and speaks frequently on firefighter life safety and health issues. Contact Chief Bowker at glbowker@hotmail.com.