EMS response is often considered safer than firefighting, but is it?
The dangers to EMTs/medics are less well known to the general public than firefighting, even at times to the agencies where they work
---
The killing of FDNY EMS Lt. Alison Russo-Elling is a reminder of not only the dangers all emergency responders routinely face but also the hazards that may often go unrecognized for those whose primary responsibility is EMS response.
The dangers to structural firefighters are well known and have been better documented in recent years. The dangers to those who primarily handle medical response are less well known to the general public, or even at times to the agencies where they work.
EMS response is often considered safer than firefighting, but is it?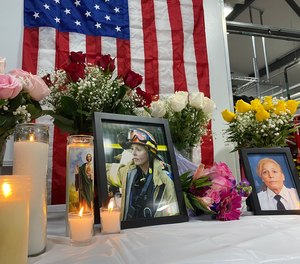 EMS response hazards
EMS responders face several unique risks that are less common for structural firefighters:
Assault, both physical and sexual. EMS personnel usually work in pairs, but they can sometimes end up alone due to various response conditions. And EMTs/paramedics are almost always alone with a patient during transport. Most female EMS responders I have known have experienced some form of sexual assault on the job, but it is not uncommon for men either. Physical assault, especially during a contentious call or while transporting an unruly patient, is also fairly common.
Motor vehicle crashes. Ambulances are smaller, less visible, and less protective of occupants vs. a big fire truck. If a wreck occurs, the likelihood of injury is much higher. Ambulances do less to protect responders at a scene as well.
Post-incident stress reaction. EMS response is up close and personal. A relationship can be formed in just a few minutes of contact. This makes outcomes more meaningful and potentially difficult for those who are involved. I have had hardened firefighting veterans tell me that the most difficult moment on the job for them was responding to a SIDS call. Those who are primarily EMS responders perform these kinds of tasks every day.
Communicable disease. The intimate contact EMS providers have with patients puts them at high risk for contracting any disease the patient might have, even when using good protective gear. During the peak of the COVID-19 pandemic, EMS providers were the group most likely to be infected compared to other emergency responders.
Physical injuries, especially associated with moving patients. It's often just two people who must access and move patients under challenging conditions. This can lead to back, neck and shoulder injuries, among others.
How to protect providers
How can emergency response agencies better protect their EMS providers? A few guidelines are clear.
First, agencies must prepare EMS responders for the reality of the work they do. Training on skills is critical but so is training on situational awareness and tactics to prevent harm to oneself and others at the scene. Talking through actual scenarios, watching video of scenes that go well or badly – these things can augment any classroom-type training that takes place.
Second, agencies must provide responders with the knowledge and equipment they need to manage as safely as possible on the scene. Protocols need to reflect this priority. Operating in teams, moving patients to safer locations, guidelines for calling for assistance or backup – these things need to be in place before the actual response is made.           
Third, public relations and education can help. If people in the public know and trust those who arrive on the ambulance, they are more likely to support and protect them when they are operating in their communities. Taking the ambulance to schools and neighborhood events, sponsoring programs for young people – these things can pay off in a big way later on when in a difficult situation.
Respect and protect
But even if all these things are done, it will not remove the risk. There are times when people act irrationally. There are times when EMS providers will be in the wrong place at the wrong time. There are times when the nature of the response is beyond what anyone could reasonably prepare for.
The best any agency can do is recognize the real risks that face EMS responders and give them every resource possible to mitigate those risks. Recognition is a critical first step. Sometimes fire department EMS responders are seen and treated differently than others on the job. They may not be considered "real" firefighters. Sometimes they are even paid less.
Respect and inclusion are the first and most important aspects of protection for all members of any emergency services organization. All members, in any functional role, must be able to speak to the challenges they face, and know that they will be heard.
---

Read more:
FDNY EMS lieutenant fatally stabbed on duty
Lt. Alison Russo-Elling (61) was stabbed multiple times, according to police
---