NFPA 1500: Making Firefighter Safety Standard
---
Editor's note: Fully implementing NFPA 1500, especially sections addressing PPE, is a major focus of the 2008 Fire/EMS Safety, Health and Survival Week. In the following article, FireRescue1 takes a look at the origins of the Standard.
By Jamie Thompson
FireRescue1 Editor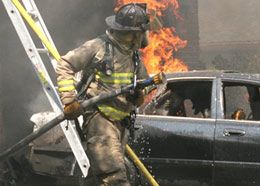 Photo Tod Parker/PhotoTac.com
An Indianapolis firefighter uses full PPE while tackling a car fire.
The heightened emphasis on firefighter health and safety in today's fire service can be attributed in large part to NFPA 1500 Standard on Fire Department Occupational Safety and Health Program.
But its passage to becoming a Standard was far from easy.
"There were some people out there who thought it was ridiculous," said Bruce Teele, senior fire service safety specialist at the NFPA. "They said, 'We can't use this, we all have our own unique issues and every fire is different.'"
A draft version of the Standard received more than 15,000 comments when it was first presented for public consultation in the early 1980s.
Many were unfavorable, with some departments mounting large-scale campaigns against its introduction. "There was one fire department that had every member and all of their wives submit comments," Teele said. "They even submitted one from their firehouse dog, and got an imprint of its paw to sign it."
The Standard addressed for the first time such issues as health and safety programs, training requirements, operational requirements of vehicles and protective clothing requirements.
But many felt the guidelines were too rigid and would affect a firefighter's ability to work successfully at the scene of a fire.
"We even had a lot of chiefs, officers and battalion chiefs against it," Teele said. "They were saying we were out of our minds, that they'd never be able to save another life with this and that they just couldn't follow it."
This attitude meant the NFPA steering committee behind the Standard faced a tough task bringing it to fruition.
LODD reports
NFPA 1500 originated in the late 1970s with the advent of detailed reporting of line-of-duty deaths. This, coupled with growing concern at firefighter injuries and occupational diseases, led to a small group coming together to look at what could be done.
Among those health and safety pioneers were now-retired Phoenix Fire Chief Alan Brunacini and Teele.
"We had noticed a lot of the deaths and injuries were preventable, almost like low-hanging fruit," Teele said. "It wasn't the big catastrophic events; it was more the things like excessive speed when responding to fires, inadequate training of apparatus operators.
"There also seemed to be a big, barren wasteland of knowledge of what incident command needed to embrace."
According to Teele, it was Chief Brunacini who first declared, 'Why can't we do a Standard on this?'
"We all agreed that we could and should," Teele said. "Our view was firefighters were dying over and over again for the same reasons and the fire service wasn't learning from it."
The group went on to put together an outline plan, which was presented to the NFPA Standards Council. Members of the council approved it and a committee was subsequently created in 1984 to work on the Standard.
And, despite opposition from some quarters, the first edition of the Standard was published in 1987.
'More awareness'
More than 20 years later, Teele said, NFPA 1500 is having an effect.
"I think more and more people nowadays realize NFPA 1500 will help their department," he said. "For one, departments are seeing lower and lower staffing levels, which means when someone gets injured it makes an even bigger impact than before.
"They're starting to come around to the way of thinking, 'Why should we get injured if there are ways to prevent it?'"
Younger firefighters, who have grown up with the Standard, are also having an impact, according to Teele.
"I think a lot of them have the attitude of 'I like the job, I like what I do but I don't want to die doing it — I want to live, I want to be around for my family,'" he said.
"Maybe there are still some people who looked back on the 'good old days' of the '60s and early '70s, but they're being outnumbered by the new people coming through, who have the attitude of, 'Why wouldn't you wear the appropriate PPE?'"