Report: Calif. FFs injured in burnover were setting backfires amid dangerous conditions
The two firefighters remain in critical condition more than five weeks after being severely burned while battling the Silverado Fire
---
By Laura French
SACRAMENTO, Calif. — Two California firefighters who were critically burned while battling the Silverado Fire in October were setting backfires in extremely dangerous conditions at the time of the incident, according to a new report from the Orange County Fire Authority. 
The report states that the firefighters were endangered by unburned fuels, erratic winds and frequent spot fires while attempting to control the spread of a spot fire that had expanded from about 75 sq. ft. to 10,000 sq. ft. in a matter of seconds, according to the Associated Press.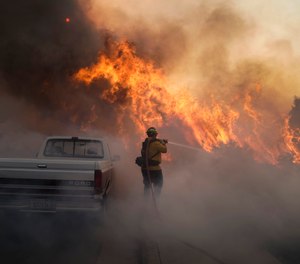 A crew of eight firefighters was working to slow the fire's path with hand tools, chain saws, fire hoses and drip torches, which kept being extinguished by strong winds, prior to the burnover, according to the report. The burnover occurred when a second spot fire ignited underneath the crew, overrunning them before they had time to deploy their fire shelters. 
The report states that the conditions in the area at the time of the incident pushed the speed at which the fire could spread to "historic levels" and that this was the "main factor" that led the crew to become trapped by the second spot fire. 
Six of the firefighters sustained minor heat injuries, while two, Firefighters Dylan Van Iwaarden and Phi Le, suffered severe burns. Iwaarden and Le remain in critical condition more than five weeks after the burnover, Orange County Fire Authority Spokeswoman Colleen Windsor told the Associated Press.