Unfamiliarity with aerial platform blamed in Texas LODDs
---
By Ken Robinson
FireRescue1 Staff
KILGORE, Texas — Two firefighters who fell to their deaths from a recently purchased aerial platform had been placed in "a high-risk training situation without adequate familiarization with the new apparatus," according to a report.
NIOSH investigators released findings Thursday into what caused Kyle Perkins, 45, and Cory Galloway, 28, to fatally fall 83 feet during training in January.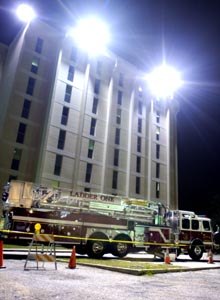 Other contributing key factors to the incident outlined in the report were:
Unfamiliarity with the controls on the newly purchased aerial platform truck
Failure to use fall restraints during training at height
The design of the lifting eyes — causing one to snag a parapet wall — and platform doors which sprung outward during the incident
The cause of death for the Kilgore, Texas, firefighters was identified as "blunt force injuries" resulting from the fall.
Four firefighters were raised to the roof of an eight-story dormitory building at Kilgore College during a training exercise to familiarize the department with the new 95-foot mid-mount aerial platform, the report said.
The platform became stuck on the concrete parapet at the top of the building.
In the attempt to free the snagged platform, the parapet gave way, causing the ladder to spring backwards from the building and whip violently back and forth, ejecting the two firefighters.
NIOSH obtained information indicating the Kilgore Fire Department received the newly manufactured 2008 apparatus on Nov. 19, 2008, and each of the three duty shifts received a factory-authorized training program of approximately eight hours in December.
The report concluded fire departments should take the following steps to minimize the risk of similar incidents:
Ensure firefighters are fully familiar with new equipment before training under "high risk scenarios."
Ensure fall protection is used whenever firefighters and other personnel are working in elevated aerial platforms.
Follow standard operating procedures for training, including the designation of a safety officer.
Ensure SOPs covering the operation and use of fire apparatus (including aerial platform apparatus) are developed and followed during training exercises as well as in fire suppression activities.
Additionally, the report included the following recommendations for fire apparatus manufacturers:
Provide fall protection belts with all aerial ladder and platform apparatus and ensure that fall protection is used during manufacturer-provided training.
Ensure that aerial platforms and other aerial devices are designed to reduce or eliminate the potential for snagging on buildings or other elevated surfaces.
Ensure aerial platform doors or gates are designed to prevent opening in the outward direction.
Interviews and investigation of the scene and equipment were conducted primarily by two NIOSH engineers and a fire service consultant knowledgeable in fire apparatus operations, performance and equipment requirements.