NIOSH IDs 4 changes after firefighter heart-attack death
Investigators recommended annual medical evaluations, exercise stress tests, vital-sign checks and the completion of a health screen questionnaire
---
The National Institute of Occupational Safety and Health issued multiple recommendations to reduce the risk of heart attacks after a lieutenant died while taking a pack test.
On March 8, Lt. Bobby Mollere, 61, with the Hellsgate (Ariz.) Fire Department, was performing the U.S. Forest Service pack test when he stumbled and collapsed after completing six laps around a track. Crewmembers assessed him and found him unresponsive, not breathing and without a pulse. They initiated CPR and ALS on-scene, but he could not be revived.
An autopsy concluded that Lt. Mollere had a heart attack due to hypertensive and arteriosclerotic cardiovascular disease. Prior to this incident, he was not known to have coronary heart disease.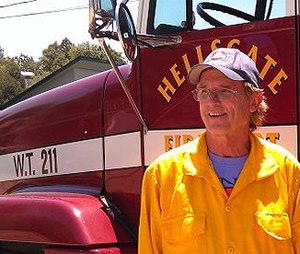 NIOSH investigators concluded that the physical stress of the pack test probably precipitated his left ventricle rupture in an area weakened by an asymptomatic heart attack occurring one week earlier.
It is unclear if any of the following recommendations would have prevented Lt. Mollere's death. Nonetheless, NIOSH investigators offered four recommendations to reduce the risk of heart attacks and sudden cardiac arrest among firefighters at this and other fire departments.
1. Provide pre-placement and annual medical evaluations to all firefighters consistent with NFPA 1582.
These evaluations are performed to determine firefighters' medical ability to perform duties without presenting a significant risk to the safety and health of themselves or others.
2. Perform exercise stress tests on firefighters at increased risk for coronary heart disease.
A stress test is recommended for any firefighters older than 45 with one or more cardiac risk factors.
3. Check pack test participants' vital signs before testing.
Have an EMT, or someone with equivalent qualifications, observe candidates during and after the test, and be able to provide emergency medical assistance if needed.
4. Administer a health screen questionnaire prior to participating in the pack test.
Once individuals have received medical clearance, they may begin training for the pack test. The test administrator reviews the forms and determines whether to allow participants to take the test. If the administrator is concerned that an applicant is not capable of completing the test, the administrator may require a medical clearance from the applicant's primary care physician.