'Stop the Bleed' kits introduced in Pa. classrooms, common areas
Officials hope to eventually provide training to middle and high school students so they can familiarize themselves with the kits
---
By Mike Crowley
The Meadville Tribune
MEADVILLE, Pa. — Teachers make pretty good students, according to Firefighter Evan Kardosh of Meadville Central Fire Department.
Kardosh's evaluation came after two "Stop the Bleed" training sessions this week with a total of nearly 100 faculty and staff members from Meadville Area Middle School and Meadville Area Senior High.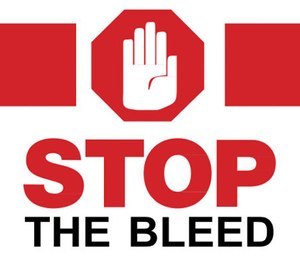 "They were very receptive, they asked questions," Kardosh said. "It seems like the teachers want to have it in their classrooms."
Meadville Central Fire Department and Kardosh's fellow members of Local 515, the Meadville chapter of the International Association of Fire Fighters, are teaming up to provide "Stop the Bleed" kits for the classrooms and common areas in all Crawford Central School District schools.
Union members raised more than $5,000 to provide the kits, which come loaded with emergency medical supplies. The firefighters are also training district teachers and staff members in how to use the kits as part of a national campaign to train bystanders to act when circumstances prevent first responders from immediately reaching the scene. The next step, Kardosh said, will be familiarizing middle and high school students with the kits as well.
The hands-on session in the MAMS media center Wednesday morning involved multiple groups of teachers seated around tables. In the center of each was a model of a human thigh, about two feet long, with a variety of simulated wounds. The thigh was passed from teacher to teacher as each took a turn packing more gauze than expected into wounds that were deeper than they seemed to be. In that respect, they resembled the types of wounds that might result in an actual school emergency, Kardosh told the group.
The half-hour session had an impact, according to several of those present.
Business education teacher Pam Manross said when it comes to activities of a medical nature her tolerance is low. For example, she said, sometimes the sight of blood can get to her. But that's not what she was thinking as she packed several feet of gauze into the simulated thigh wound before her.
"To be honest, I was thinking that I could probably do this — if I had to," Manross said after heading back to her classroom for the first class of the morning. "You're thinking, 'Just get it in until you can stop that bleeding. It just wasn't as bad as I anticipated it would be, and I think I can do it."
English teacher Clifton Roberts was seated next to Manross as the thigh went around the table.
"It was an extremely useful training — very beneficial for the faculty," he said.
Having more than half of the Meadville Central firefighting staff available for questions also made an impression, according to Roberts.
"I think some of us are aware of some of those things through our first aid training," he said, "but to have those guys come in, it showed a lot of support for the schools and helps us to be better prepared."
The push to distribute more than 500 kits with a combat application tourniquet, hemostatic gauze, pressure dressings, special blood clotting gel, scissors and gloves was inspired by a similar effort organized by North Shenango Volunteer Fire Department in Conneaut School District earlier this year, according to Kardosh.
Ideally, Kardosh said, the kits will never be used, but if they are needed at some point, they will be useful no matter what the situation, whether it's a school shooting, a shop accident or simply someone taking a fall on slippery stairs.
While some people won't be comfortable treating wounds, he said, just knowing the kits are available and where the kits are can help. Similarly, having passed around the surprisingly flesh-like thigh model and talked over the appropriate responses can help, too.
"In those situations sometimes that's the last thing people think about," Kardosh said of the squeamishness some feel around blood. "The training kind of kicks into place over the fears they've had in the past."
———
©2019 The Meadville Tribune (Meadville, Pa.)
McClatchy-Tribune News Service