Technical rescue: Remembering the ropes
Here's how to properly inspect ropes for safety and how to train for rope rescues
---
By Dr. Shana Nicholson
American Military University
Communities invest hundreds of thousands of dollars to have a reliable and well-equipped rescue truck. Every piece of equipment — from spreaders and cutters to hand tools and air bags—is necessary for rescue personnel. To ensure integrity and safety of rescue operations, every piece of equipment on a rescue truck must be thoroughly inspected on a regular basis.
I have found that when firefighters inspect the equipment on a rescue truck, the most neglected and least understood piece of equipment is the ropes. Although many personnel use ropes for utility line and life line on the fire ground, most do not have skills in rope rescue and do not understand how to properly inspect this equipment to ensure it hasn't been damaged or compromised.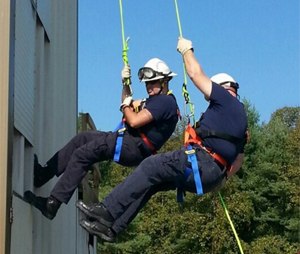 What Is Rope Rescue?
When entering a scene, firefighters must establish a variety of things including the patient count, potential hazards, and the identification of resources. They must also determine if a technical rescue is required. Technical rescue includes rope rescue, trench rescue, confined-space rescue, and water rescue. Each of these operations requires knowledge of ropes, knots, and rescue systems.
Full story: Visit the In Public Safety blog