Things to make fire academy life easier
These next few months are going to test not only your resolve, but your mental and physical limits
---
The fire academy is exhausting, both mentally and physically. And, it will impact your home life significantly. However, with some careful planning it will impact your home and life positively, not negatively.
Setting expectations
Chances are you've got a spouse and possibly some little ones at home. Sit them down a few weeks before academy starts and go over expectations for the coming months. The family won't have you around to do the normal stuff you do for a few months so let's discuss some solutions now.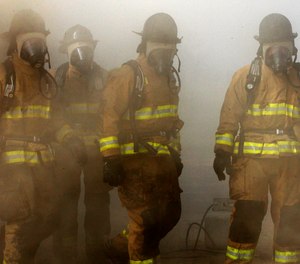 If you have a large yard or garden that you usually tend to, make arrangements for a gardener to come by during your academy time. If you coach a sports team, call the assistant coach and tell them you're swapping spots for the season. For the kiddos, depending on their age, they may be confused as to why you're gone all the time, or never have energy to play when you get home. Set up a buffer time at home between getting home and getting to homework (yes, there will be homework and studying) so you can enjoy the family. If you don't have kiddos around, still build in a buffer to decompress from the day.
Getting physically and mentally fit
Fire academy is going to be tough. Each day will likely start with physical training (PT). This will include strength exercises, running, pushups, you name it. The exercises will condition your body for the rigorous activities involved with firefighting. It will also give you the chance to bond as a class. Tradition calls for additional exercises to show respect to the company you are assigned to. Since you have not been assigned a company, your extra pushup, pull up or sit up will be to the class. For example, if assigned 50 situps, complete the 50, then one more counting it off as "1 for 33!" If you are class 33.
Leading up to the academy, you should be running every day as well as able to complete 20 pushups, 50 situps and 10 pullups without becoming winded. You will be tired when you complete your PT, but you'll also need to be ready to study. The classroom portions of fire academy will require a great deal of study. If you've been out of school for a while, it's time to dust off the flash cards and get ready to take notes. Set up study groups and make sure you know the content front, back, up and down.
[Dive deeper: 3 exercises all firefighters should be doing]
Class house collector
Early on, your instructors will tell you how they expect the class to be organized, and they'll offer some suggestions to help your class adapt to firehouse life. One of these suggestions is to establish a house collection and house collector. Each cadet will pay weekly dues to cover water, snacks, coffee (if allowed by instructors) and later to purchase your class gift and graduation party expenses. Some academies my have a kitchen area and you may elect to chip in extra each day to take part in a large meal. To avoid confusion, the house collector will also keep a master schedule of who is due to cook and when.
Their way or the highway
Many academy cadets have received some form of firefighting training or education either at a previous employer or college course, or even simply preparing for this academy. No matter what previous training you have, leave it at the door. They are going to teach you how to be a firefighter in their department and will have absolutely no interest in how things were done where you used to work.
The phrase "That's not how I learned it" should not even enter your mind let alone come out of your mouth. Learn their way. Show them you understand their way. Be proficient in their way. Years later, after seeing how their way works, only then are you allowed to comment on it.
[More: 20 rules all rookie firefighters should live by]
Graduation
About three to four weeks before the end of academy, you should start thinking about your graduation. Who will you invite? Mom and dad? The in-laws? The guys from the softball team? The cute barista at the corner coffee house? You should know at that point where and when it will be held and what the expectations are for cadets and their families. You may need to select a person to pin your badge on you on stage. Just make sure it's someone who wants to be on a stage in front of all those people.
Graduation party
As soon as your class captain advises you of the graduation date and location, it is time to meet as a class to organize a graduation party. It is recommended that it be held after graduation and not in uniform. The house fund should have enough left over to rent a hall or restaurant back room. Check with the local guys in the academy. It is likely one or more of them have a connection to get a good deal on a place. Keep it casual, no need for speeches, podiums and the like, just a space for the class to mingle with each other's family and unwind after a long few months.
When the location of the party has been determined, there are three people you need to invite who you never thought of. Aside from your instructors, of course, there are people within your new department who deserve respect from before day one if you are going to have a successful career.
1. The Quarter Master: Your Department has a person who distributes gear. Helmets, belts, gloves, etc. He's on your invite list.
2. Payroll Supervisor: When you wander in with a concern they'll remember being invited to your graduation party and it actually does smooth things out.
3. Assignments Officer: Deep in the heart of your administrative staff is a person who decides what station you are assigned to. It isn't like in the movies where you can bribe your way to a quiet suburban engine to sleep all day. This person is not being bribed, you are showing respect to them from before day one. However, it also helps should a concern arise, when they recognize you as a member of the class that took the time to invite them to the party.
These next few months are going to test not only your resolve, but your mental and physical limits. Your family and friendships will be stressed just short of the breaking point at least once, but keep your eye on the prize — a career as a firefighter. Good luck, cadet!
More from Justin Schorr: 7 tips to prepare yourself for the fire academy