Train Like Your Life Depends on It
---
By Dan Paulsen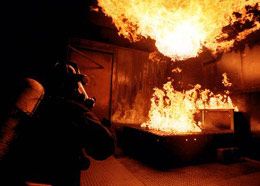 AP Photo/Dan Krauss
A San Francisco firefighter at the Fire Training Center on Treasure Island in San Francisco in this file photo.
No one questions that we work in a dangerous environment. But why do statistics from the NFPA tell us that about 7 percent of all line-of-duty deaths annually happen in training?
The USFA's special report in 2003, "Trends and Hazards in Firefighter Training," makes particularly  interesting reading. 

Just look at these snippets:

One firefighter killed, two injured in live fire training exercise ...

Recruit killed during physical training ...

Two firefighters injured during demonstration in improvised structure ...

Three firefighters burned in improvised training structure during search and rescue ...

Chem-bio training leads to near fatal exposure to toxic products ...

Near miss when aerial ladder contacts high voltage electrical wires during training ...

Marine firefighting session injures instructor ...

Apparatus accident injures firefighter, damages new engine ... 

Recruit injured during power saw operations …

Firefighters injured in ad hoc training evolution …
Do fatalities and injuries happen because our approach to the exercise has become routine and, perhaps, too relaxed or boring? Do injuries happen because we assume that training exercises are imaginary situations without consequences?

These questions lead to the same point: How do structured and presumably safe events such as training exercises cost lives?
But tragedies and near misses related to training still occur in every part of the country. They happen in all types and sizes of department, both paid and on call. These accidents can take place in everything from dive rescue and confined-space training to driving and live-firefighting exercises.

Continuing training in the fire service ensures that we are ready to do our job as efficiently and safely as possible. In addition, better protective gear and SCBA and advances and improvements in driving, seat belts, communications, command and tactics and other things have allowed us to move past some of the dangers of the past, while creating new hazards for our future.
We should aim to train the way we work, to gain confidence through experience while remembering the margin of safety. If your department has someone in charge of safety at an incident such as a Safety Officer, should you not have someone in the same role for a training exercise?
 
It is a sad day when there is an injury or loss of life, and even sadder when it is repeated. Training has inherent risks and the statistics I outlined earlier emphasize this. Last year was even worse; according to these NFPA statistics, of the 106 LODDs in 2006, nine occurred in training. That is 8.5 percent of the total deaths. 
There is no easy answer to this serious situation. All of us involved in the training — from instructors to participants — must treat each session like the real thing. It's vital that every participant has the confidence to complete tasks in a controlled manner by gradual addition of skills through training.
The NFPA has provided guidelines for the implementation of safe training, examples of which include 1403 Live Fire Training, 1006 Standards for Technical Rescue and 472 Dangerous Goods.
Let's learn from the past and train for the future.

Dan Paulsen is a 24-year member of the Saskatoon Fire and Protective Services in Canada. He holds the rank of assistant chief. He is also a fire service instructor in rescue teaching, covering dive rescue/recovery, technical rope, confined space and extrication.