Training and tactics for the "big 3": Residential, high-rise and warehouse fires (eBook)
This downloadable eBook reviews the training and tactics associated with each of these dynamic fireground scenes, underscoring firefighter safety, the role of command, and the tools needed to get the job done
---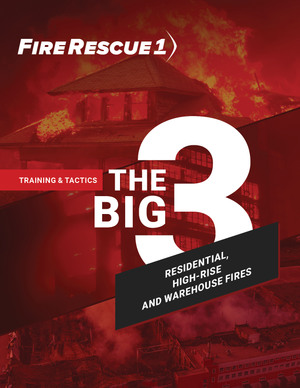 Residential fires, high-rise fires and warehouse fires. These three types of fires represent quintessential fireground operations. From the bread-and-butter residential fires to the more expansive and complex high-rise and warehouse fires, firefighters must be prepared for myriad hazards at each of these scenes.
For a PDF of the complete guide, fill out the form below.
Pulling up on the scene of a residential structure fire may feel like déjà vu, but complacency kills. Firefighters must stay vigilant and maintain situational awareness. 
High-rise fires have long been viewed as a high-risk/low-frequency operation for many firefighters, but with more mid-rise structures now rising above small towns and big cities alike, it's not surprising that such response efforts are now more likely in the high-frequency category. 
Say the words "Southwest Supermarket, "Worcester Cold Storage" or "Sofa Super Store," and firefighter immediately conjure images of the firefighters lost during tragic warehouse fires in Phoenix, Worcester and Charleston. Like high-rise structures, warehouse fires present a host of unique challenges for which all firefighters must prepare. 
This eBook reviews the training and tactics associated with each of these dynamic fireground scenes, underscoring firefighter safety, the role of command, and the tools needed to get the job done. I encourage you to read and share this eBook with your members, considering the role of each member of the team, what they will face at these incidents, and whether they are prepared.
The time to train is now.
TRAINING AND TACTICS FOR THE "BIG 3": RESIDENTIAL, HIGH-RISE AND WAREHOUSE FIRES