Tactical considerations for mobile home fires
Mobile home configuration – inside and out – is critical to understanding how to approach a conflagration and protect surrounding structures
---
Last year, Mark van der Feyst, wrote "Mobile home fire attack: Key factors for firefighters," an insightful piece with key training lessons.
I take a particular interest in this topic because my three brothers and I grew up in a 10 x 55-foot mobile home. Over time, our father – with ample help from his three oldest boys, me being the oldest – would build an addition to both the living room and bedroom in the rear of our home. As such, I'm quite familiar with how mobile homes are constructed and how the construction characteristics so aptly described by Mark in his piece will affect fire behavior.
Let's expand on Mark's recommendations to focus on tactical approach to fire suppression operations at mobile home fires.
Mobile home configuration matters
The mobile home I grew up in can be considered the "Volkswagen of mobile homes" – it was quite compact! In contrast, today's larger mobile homes, and the even-larger modular homes, would best be described as "full-size SUVs" due to their greater square footage and open-concept spaces.
The primary construction feature that firefighters should be aware of in mobile homes is the hallway, which typically runs from front to rear in the mobile home (see Figure 1).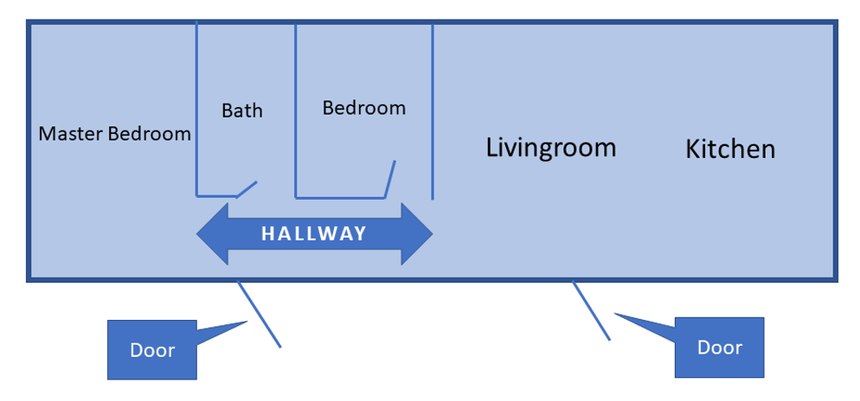 In a fire, that common hallway acts as a horizontal chimney that will quickly carry products of combustion from one end of the mobile home to the other.
The other important feature is the large open space for the living room and kitchen. A fire originating in either of those areas will have adequate oxygen for rapid development and given the heavy synthetic fuel load of modern furnishings, a readily available source of fuel. And, as Mark described in his article, the paneling and small dimension lumber used in the walls and ceilings will quickly contribute to the available fuel load.
I saw this firsthand during a response to a mobile home fire where I was serving as the IC. The fire originated on a sofa when an individual fell asleep while smoking a cigarette. By the time our first engine arrived – a five-minute response time – the entire wall behind the burning sofa was aflame, as was the ceiling overhead.
What is Side A?
We commonly use the designation Side A for the address side of a building facing the street. For a mobile home, however, the Side A designation should be the end of the mobile home facing the street, with the home's front door located on Side B or D (see Figure 2).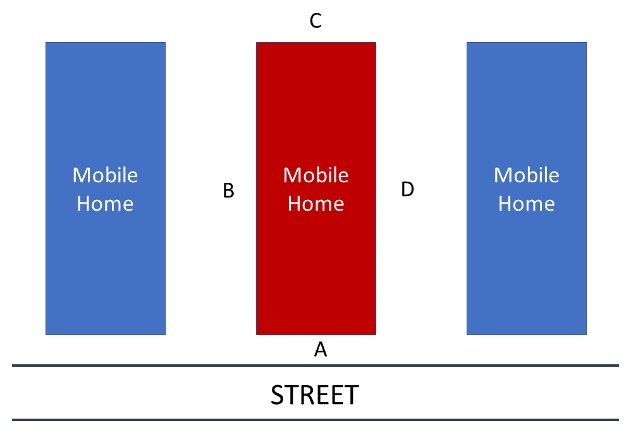 In Figure 2, the red mobile home is where the fire is burning so the two exposures would be Exposure B and Exposure D. This layout is a critical factor, as mobile homes are typically only spaced about 30 to 40 feet apart. As the outer shell of a mobile home is made of lightweight aluminum, protecting those exposures is a critical factor for the incident commander.
I've found it very useful to use the designation "Division A" for the mobile home where the fire is located. The relatively small footprint of a mobile home means that a single Division Supervisor should be able to manage the resources and tasks that the IC commits to the mobile home where the fire is located.
Maneuvering fire apparatus within a mobile home park
Access for and positioning of fire apparatus in a mobile home park will be challenging. The streets within a mobile home park are typically much narrower than most municipal streets, and parked vehicles on those narrow streets will only compound the problem. When preplanning mobile home parks in your community, it's critical to identify the different avenues of approach that are available to reach various areas of the park.
Further, those tight quarters require the incident commander to use the fewest number of fire apparatus. As shown in Figure 3, the initial-arriving engine has positioned so that handlines can be advanced to Division A and used to protect Exposures B and D.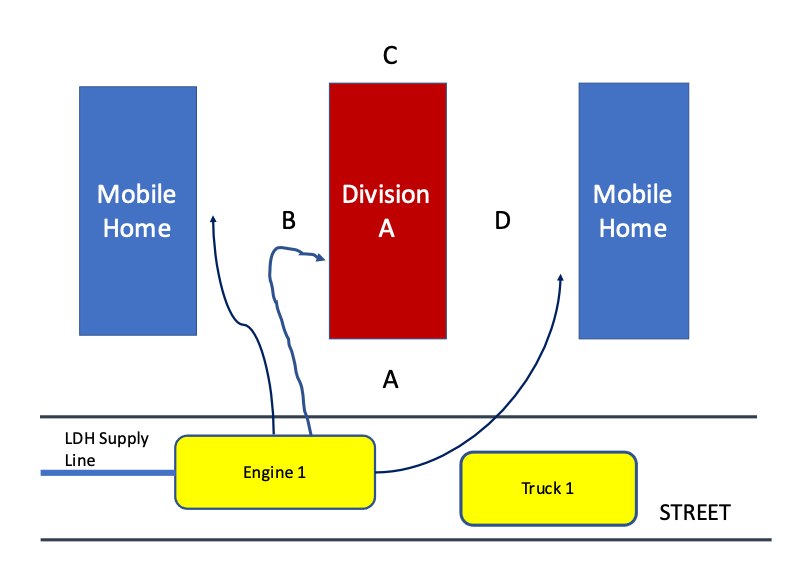 Truck 1 is positioned to provide support as needed to any of the three tactical areas. It's important that the IC make provisions for protecting those structures because of the likelihood that they will quickly become exposures from radiant heat if the fire cannot be contained to Division A.
Consider that there could be an additional exposure (see Figure 4) on Side C of Division A, especially if the fire in Division A originated in the master bedroom (the C end of Division A). If possible, the IC should assign a second engine, closer to Exposure C, with the task of protecting that exposure. Otherwise, that exposure protection hoseline will need to come from Engine 1.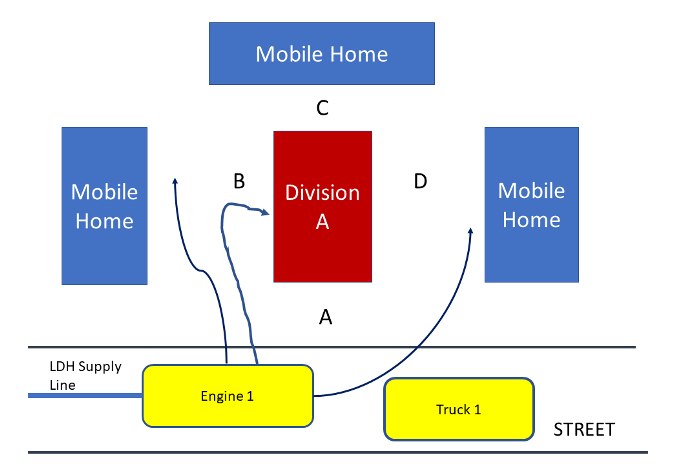 Mitigate noise and light pollution
The aluminum skin on the surrounding mobile homes and their proximity to each other creates an additional hazard for personnel operating at a mobile home fire. The sound of running fire apparatus, portable gas-powered appliances, and radio traffic from external speakers bouncing off the surrounding mobile homes creates light and noise pollution, greatly increasing the potential for missed radio communication and physical disorientation of personnel. As such, once in position, fire apparatus operators should switch off all emergency warning lights and headlights for the duration of the incident to reduce the amount of light pollution.
Manufactured and modular homes
Today's manufactured and modular homes have greater square footage of living space than mobile homes, many with open floor plans. But don't mistake a manufactured or modular home for a "stick-built" home because of its size. The manufacturers of modular homes often still use the lighter-weight construction materials (e.g., wall studs, ceiling rafters, flooring, and wall coverings) found in mobile homes because the modules that are assembled on site still must be transported over the road to reach the assembly location.
Finally, the larger living space also means that a modular home can contain more internal furnishings and floor coverings, which means a greater total fuel load for the home. Once a fire originates in a modular home, firefighters should expect the same rapid-fire development and extension through the modular home that they would expect in a mobile home.
Plan for mobile home park fires in advance
Fires in mobile homes, manufactured homes and modular homes present a unique fire suppression challenge for fire departments, so it's incumbent on firefighters to know where these types of occupancies are in their communities, understand how they are constructed, and conduct pre-fire planning to learn how best to get to these occupancies and what water sources are available.