Fire code lessons from West, Texas disaster
Municipal, county and state fire codes are complex, but adaptation and enforcement can help prevent tragedies like West, Texas
---

By Cathy Sivak, contributor
A fire at the West Fertilizer Co. facility wreaked tragic havoc in West, Texas on April 17, 2013, when it set off ammonium nitrate fertilizer explosions. A dozen first responders and three others died, more than 250 people were injured, and a large section of the north side of the town of 2,500 people was damaged.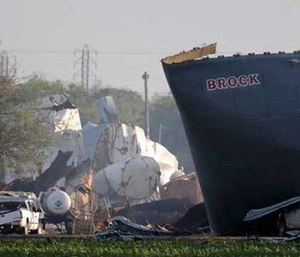 The comprehensive post-disaster analysis by the U.S. Chemical Safety Board questions if the McClennan County facility could have been subject to locally adopted codes. The Texas Local Government Code limits rural counties with populations less than 250,000 from adopting and enforcing fire codes.
Yet, population level wasn't a good determinant for the need of codes in this case.
An estimated 40 to 60 tons of ammonium nitrate fertilizer was stored at West Fertilizer. In comparison, the truck bomb that leveled the Alfred P. Murrah Federal Building in Oklahoma City in 1995, carried 4,800 pounds of ammonium nitrate.
And as with the Murrah bombing, the Bureau of Alcohol, Tobacco and Firearms discovered criminal intent behind the initial West Fertilizer Co. blaze during its investigation. The May 2016 ATF announcement included a $50,000 reward for information leading to an arrest.
Galvanizing local fire code adaptation and enforcement designed to prevent similar tragedies is the key takeaway of the "Could Code Enforcement Have Made a Difference in West, Texas?" session at the upcoming International Association of Fire Chiefs FRI Conference. Early registration discount ends July 6 for the event, slated for Aug. 17-20 in San Antonio.
The code expert
The session will use case-study analysis to help fire chiefs and fire code officials understand the role of codes and standards in the fire service as well as to implement change, says session presenter Robert Neale. Neale is the International Code Council's vice president for government relations/national fire service activities.
As part of his role with ICC, Neale provides strategic guidance to help local fire organizations adopt and enforce the most recent version of the model codes. He also owns a private building and fire-code consulting firm that provides plan review and code analysis services to municipalities and private-sector clients.
Prior to joining ICC in 2015, Neale was deputy superintendent for the U.S. Fire Administration National Fire Academy, where he led the development of fire service professionalism curriculum as well as technical fire prevention curriculum including fire inspection techniques, prescriptive and performance-based fire and building code interpretation and application, fire protection systems function, design, installation and standards, and plan review for fire inspection personnel.
Neale also has more than 30 years of experience in Washington state municipal fire protection as a fire chief, fire marshal and firefighter.
Several young men who died in West Texas were facility employees who understood neither the hazards of ammonium nitrate nor the proper way to handle it, Neale says. The case stresses the importance of fire service training for all potential hazards as part of the obligation to fellow firefighters and community, he says.
"We will review the case study so as to understand its behavior in a way that you can apply the code correctly," he says. "Ammonium nitrate is an interesting product that can behave in a variety of ways.
"It looks like fluffy white sand in a pile. Familiarity breeds contempt. That's why pre-risk management is valuable; that's why we have codes, for the big picture of community safety."
Codes and standards
State building and fire safety codes are often based on model codes from international or fire protection organizations to set the minimum standard and amended to address specific local conditions such as hilly, narrow roadways, Neale says.
State-by-state code variances can make it difficult to give specific advice. For instance, the mini-maxi codes in some states set both the minimum and the maximum code, and municipalities are not allowed to adjust.
Codes are the baseline minimum standard that the jurisdiction is willing to accept for risk management, Neale says. "You want to go above and beyond that. Building and fire codes are another tool the chief can use to his advantage to keep firefighters and public safe."
Attendees will learn about the role of codes and standards in the fire service field. They also will leave prepared to focus on potential changes to and enforcement of codes and standards in the face of municipal, county and state differences. 
Neale advocates chiefs build an understanding of overall codes and standards, how the code adoption and change process works, fire service involvement in ICC processes and how important code and code enforcement is to public and first responder safety.
"There are jurisdictions all over the world where they set the code, stick it on the shelf and nothing is done with it," he says.
Take action
"Enforcement is really a matter of education of the public, the fire service and the code officials," Neale says. The ICC is among the entities that provide formal training in code interpretation, development and enforcement. 
The fire service is already known for its public safety campaigns — smoke alarm placement and battery replacement, stop drop and roll and even Sparky the Fire Dog — and should consider local, state and national campaigns to help educate the public about the role of codes and enforcement.
For instance, codes that forbid the use of grills on residential decks and balconies are not useful if the public does not embrace the code and the municipality does not enforce it. Neale recalls the public said, "Don't take our grills" in response to a recent Missouri code enforcement effort after four young children were killed in an apartment fire started by a grill on a deck.
In response, the municipality found alternatives to deck grills by updating codes to allow larger, community grills in common areas of apartment buildings such as sidewalks. In addition to reducing structure fire risk, the communal grills created a spin-off benefit of neighborhood interaction, Neale says.
Chiefs who take the time to get involved in creation, updates and enforcement of building and fire codes will begin to look at building construction, operations and systems in a new light.
"We ask firefighters to be heroic under duress. For a lot of people who are motivated to do things quickly, codes and standards are not easy. It's a slow, thoughtful, deliberate process," Neale says. When codes lack either development or enforcement, "someone's got to go in there and take care of the problem, and it is first responders."
About the author
Cathy Sivak is a freelance writer and award-winning journalist who spent several years covering the police, fire and emergency response beat for a daily newspaper.