Ore. firefighters honored for saving woman from burning house
Captain Kyle Olson and firefighters Andrew Brian, Scott Kohler and Matt Towner are being hailed heroes after bringing a woman to safety by deploying a personal bail-out system
---
By FireRescue1 Staff
DALLAS — A group of firefighters are being honored for their heroic actions after saving a woman trapped in a burning home.
According to an IAFC press release, Clackamas Fire District Captain Kyle Olson, apparatus operator Andrew Brian, and firefighters Scott Kohler and Matt Towner were the first to respond to a house fire on Sept. 7, 2017.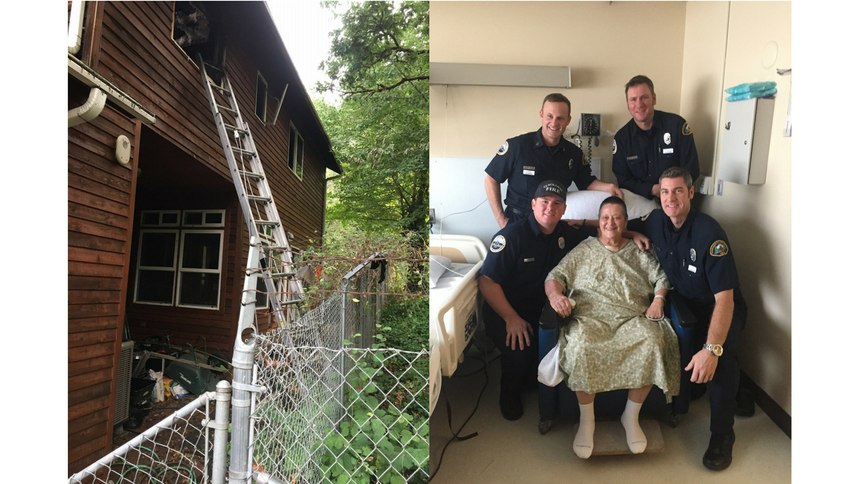 Upon arriving, the crew saw a huge volume of fire enveloping the two-story home and two women outside shouting that a woman was trapped in the house.
Olson and Brian tried to get into the house through an exterior door, but debris and high heat prevented them from entering.
Kohler and Towner managed to get through a back door and raced up the stairs to find the woman, dazed and trapped in a bedroom, as Olson directed hose lines.
The bedroom window was the only way out, so the crew radioed for a ladder, and Towner lowered the woman out of the window in Kohler's lap. The rest of the team shielded the woman from flames as they dangled on ropes.
The woman was transported to the hospital where she recovered despite suffering extensive burns.
The crew will receive the IAFC Ben Franklin Award for Valor at Fire-Rescue International.
"This was an extremely high-risk incident where quick thinking, extensive training, and experience with bail-out equipment paid off," Chief Fred Charlton said. "In this incident, we took 20 years of training our firefighters for self-rescue and turned it into saving a civilian in imminent danger. What could have been a tragic day became a story of success."