How to help Hurricane Harvey first responders
Here are some ways you can help give back to first responders affected by Hurricane Harvey
---
Here at FireRescue1, our thoughts are with all of those affected by the severe weather and flooding from Hurricane Harvey. Thank you to the first responders — both local fire, EMS and law enforcement providers working tirelessly while facing damage to or loss of their own property, as well as those who have traveled to affected areas to assist with rescue and relief efforts.
We invite you to join FireRescue1 and our parent company Praetorian Digital in supporting charitable funds specific to the recovery needs of first responders. We also want to hear from readers directly impacted by Hurricane Harvey or readers who are participating in the search and rescue efforts. Send your photos and stories to editor@firerescue1.com.
Hurricane Harvey is being called one of the costliest storms in U.S. history. Its catastrophic devastation has caused over one million people to evacuate their homes in Texas.
FEMA officials say that about 325,000 people have already sought federal emergency aid. First responders are continuing to conduct block-by-block searches, looking for anyone alive or dead. The current death toll has risen to 60, but officials said that number may change in the coming days or weeks.
However, amongst the flooding and destruction, it has been incredible to watch people from all walks of life help in the rescue efforts. The "Cajun Navy," a group of good Samaritans formed after Hurricane Katrina, have helped save thousands of stranded people in Houston.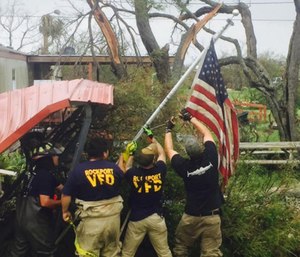 First responders – police, fire and EMS – have banded together from all over the U.S. to help save those affected by the powerful storm. Additionally, active duty service members, the National Guard and U.S. Coast Guard have assisted in countless water rescues.
Among the estimated 30,000 to 40,000 homes destroyed in the Houston area, are homes belonging to the men and women who have put everything on the line to save others: our first responders. The State Firefighters' and Fire Marshals' Association of Texas reported that many firefighters suffered major losses in the disaster. It's estimated that 80 percent of firefighters in one department have lost their homes.
Many first responders are exhausted after working non-stop during search and rescue efforts, as captured in this viral photo of a deputy who took some much-needed rest after rescuing those trapped by rising waters.
We commend their immeasurable hours of work during this disaster and we also want to shed light on the organizations and charities raising money for first responders directly affected by the storm.
Here are some ways you can give back to first responders affected by Hurricane Harvey.

Acadian Employee Emergency Relief Fund
Acadian Ambulance, headquartered in Lafayette, Louisiana, created a relief fund to provide immediate financial assistance to Acadian Ambulance employees who are experiencing financial hardships resulting from Hurricane Harvey. Click here to make a contribution and help the agency's team members in Texas.
International Association of Fire Fighters Foundation Disaster Relief Fund
You can help IAFF members working during Hurricane Harvey through the IAFF Disaster Relief Fund. You can donate here – the IAFF Disaster Relief Fund is aiming to raise $10,000. The fund has currently raised over $3,500.
National Volunteer Fire Council Volunteer Firefighter Support Fund
Volunteer firefighters and emergency personnel whose homes have been impacted as a result of Hurricane Harvey can apply for a NVFC stipend to assist with basic needs in the aftermath of the storm. Learn more here.
State Firefighters' and Fire Marshals' Association of Texas Hurricane Harvey Relief
By donating here, you can help the fire departments in the impacted area – 78 percent of which are volunteer – recover financially and continue to help those in need. All proceeds will go toward an immediate relief fund.
STATE FIRE MARSHAL'S OFFICE OF TEXAS T-SHIRT DONATION
The Texas Fire Marshal's Office is also requesting that any unused firefighter or EMS T-shirts be donated so they can be distributed specifically to firefighters, paramedics and their families in need.
Fraternal Order of Police Foundation Disaster Relief
The FOP Foundation is helping officers who have been displaced by Hurricane Harvey. You can make a one-time donation or can contribute monthly. For more information, click here.
Assist the Officer Foundation
Assist the Officer is accepting donations to aid Houston-area officers who have been affected by Hurricane Harvey. You can donate online or send checks to: 1600 State Street in Houston, Texas, 77007.
Los Angeles Protective League Hurricane Harvey Relief Fund
For one week, the LAPPL will be matching all donations (up to $5,000) made to the Assist the Officer Foundation. Donate by Sept. 6 and type "LAPD" in the special instructions box. The LAPPL will double the impact of your generous donation. Learn more here.  
Police Wives of America Relief Fund
Police Wives of America is gathering drinks, snacks and toiletries to send to first responders in Houston. You can donate here – 100 percent of all proceeds will go to first responders affected by the storm.
HOUSTON POLICE OFFICERS' UNION
The Houston Police Officers' Union sent out an appeal asking that donations be sent to Assist the Officer, Inc., a 501(C)3 charity established 30 years ago in Houston, which provides aid to law enforcement during disasters. 
You can make a donation online here, or mail a check to: Assist the Officer, FBO Harvey Relief, 1600 State Street, Houston, Texas 77007.
As with any organization or charity, be sure to check its legitimacy. Some organizations claim to be sending 100 percent of their funds to Hurricane Harvey victims, but may not be entirely truthful. Charity Navigator compiled a list of reputable organizations providing assistance to those affected by Hurricane Harvey. This list can also help you determine if a charity or organization is legitimate.
There are hundreds of Houston-area charities and organizations. If you're looking to help outside of first responder charities and organizations, consider local organizations such as the Hurricane Harvey Relief Fund, Houston SPCA, Houston Humane Society, Houston Food Bank, Food Bank of Corpus Christi or the San Antonio Humane Society.
To all first responders: Thank you for your continued efforts during the recovery efforts and remain safe out there. In the comment section below, please feel free to share your stories and photos with us.