Retired firefighter develops decon kit to battle occupational cancer
The Rehnke Decon Kit is designed to completely detoxify contaminated gear
---
By FireRescue1 Staff
PHOENIX — A retired Arizona firefighter developed the Rehnke Decon Kit to help prevent fellow firefighters from contracting occupational cancer.
According to AZ Family, El Mirage Firefighter Ed Cunningham named the kit after Capt. Dave Rehnke, a Peoria firefighter, who is battling kidney cancer.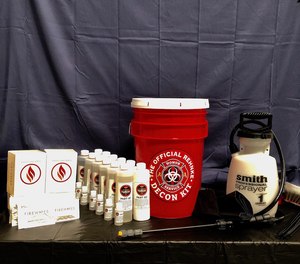 The solution created by Cunningham is designed to completely detoxify gear.
"What most people don't know is once we exit the structure, our gear becomes so saturated with these toxins, that it becomes our greatest threat," he said.
According to the IAFC, cancer is the leading cause of line-of-duty deaths for firefighters. Baylor University is poised to release a study later this month proving there are more than 30 different carcinogens  left on firefighters' gear after battling a fire.
Cunningham devised this new tool in response to the risk of cancer posed to firefighters.
"Here we have a firefighter who's exited the structure, we have everything mixed up inside of here, once the decon compound has been applied, it will start soaking in and actually binding in to all the toxins, carcinogens and poisons and removing them from even as deep as the thread," Cunningham said.