Ghost Ship defendants to accept plea deals
Derek Almena and Max Harris would not have to serve their full terms because they would each get credit for the year they have spent in jail
---
By Kimberly Veklerov
San Francisco Chronicle
OAKLAND, Calif. — Two men accused of involuntary manslaughter in the deaths of 36 people in Oakland's Ghost Ship warehouse fire are poised to accept plea deals with prosecutors Tuesday of six and nine years in jail, minus time served.
The artist collective's primary tenant, Derick Almena, 48, would take the longer of the two sentences. He and his co-defendant, Max Harris, 28, the collective's creative director, would not have to serve the full terms because they would each get credit for the year they have spent in jail. They were arrested six months after the Dec. 2, 2016, conflagration.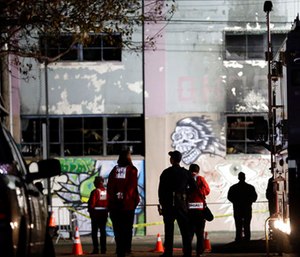 Prosecutor David Lim outlined the terms of the plea bargain in an email to families of victims, according to David Gregory, who received the note and whose 20-year-old daughter, Michela Gregory, was among the victims. Two sources familiar with the case confirmed the details.
While the Alameda County district attorney's office and attorneys for Almena and Harris have an agreement in principle, the deal must be approved in court by both sides, as well as by Superior Court Judge Morris Jacobson. That is expected to happen at a hearing Tuesday in Oakland.
Under criminal justice reforms adopted by California in 2011, defendants convicted of involuntary manslaughter serve their time in local jail rather than state prison.
On Monday, Jacobson called the parties for an afternoon conference in his chambers. It wasn't immediately clear whether the intent was to alter the terms of the plea deal. The lawyers left the meeting after 20 minutes and declined to answer questions.
Gregory, whose daughter was a student at San Francisco State University, said he was shocked and disappointed by the sentences, which he thought were far too short.
"These people are going to be out in a few years and walking the streets," he said. "They're getting a sweet deal, and they're going to do easy time. This is not a win for the DA's office. This is a loss. This is a loss for Oakland. This was a chance for them to make a statement."
Gregory said he would have preferred the case go to trial.
"We have more questions than before," he said. "A trial would have given us some answers."
Not all of the victims' parents had apparently been notified of the pending plea bargain.
Bob Lapine, whose son, musician and DJ Edmond Lapine II, was among the victims, said Monday he had not been contacted by the district attorney's office. Lapine, who lives in Utah, said he did not want to comment on the deal until he could confirm all the facts.
"No one has notified me," he said. "I'd like to be consulted. I did lose my son, and I'm upset about it and I always will be. I miss my boy."
Almena and Harris were each charged a year ago with 36 counts of involuntary manslaughter in the fire, which tore through the two-story warehouse during an electronic music party.
The 36 victims trapped inside died of smoke inhalation.
Fire investigators were not able to determine a cause of the inferno, but Assistant Fire Marshal Maria Sabatini testified during a preliminary hearing that it was probably an electrical failure.
Prosecutors accused Almena and Harris of knowingly creating a firetrap inside the building packed with wooden sculptures, rugs, pallets and other flammable materials.
But their attorneys say the men were scapegoated for the failings of others, including the landlord, Chor Ng. The defense attorneys also contend that city and county officials, who had visited the collective, let it continue operating as a residence and performance space without permits.
Chronicle staff writer Rachel Swan contributed to this report.
Copyright 2018 San Francisco Chronicle