Oakland fire dept. named in Ghost Ship lawsuit
The lawsuit alleges that members of the fire department who "attended and held a music event" in the warehouse prior to the fire should have been aware of the hazards
---
By FireRescue1 Staff
OAKLAND, Calif. — Along with the owner and operator of the Ghost Ship warehouse building where 36 people were killed in a fire, the Oakland Fire Department has been named in a lawsuit filed this week. 
The parents of Michael Gregory, 20, and Griffin Madden, 23, have named the building owner, Chor Ng, the primary tenant, Derick Ion Almena and his wife, Micha Allison, event promoter Hon Hrabko and performer Joel Shanahan in the lawsuit. Another suit was also filed against the city of Oakland, Alameda County and the Oakland Fire Department, reported the San Francisco Chronicle.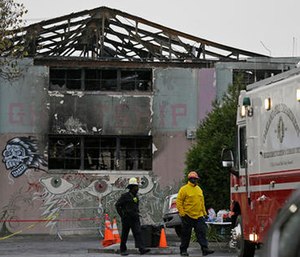 Gregory and Madden's parents allege their children endured pain and suffering during their final moments, and that their death was not instantaneous. 
The lawsuit alleges that members of the fire department who "attended and held a music event" in the warehouse prior to the fire should have been aware of the hazards. It also stated the nearest fire station is nearly a block away, reported FOX5. 
"We have filed the lawsuit against the owners of the building … against those who were involved with the event, the promoters and the person who was putting on the show. And we have also filed against the person who was the manager," attorney Mary Alexander, who is representing the families, said. 
Since the Dec. 2 fire, the city of Oakland and the fire department has fallen under scrutiny. The fire department stated it was unaware of the warehouse's safety fire code violations, and was not made aware of numerous complaints filed against the building. Although all Oakland buildings undergo annual inspections, the department said Ghost Ship somehow fell through the cracks. 
City and county departments could not be reached for comment. No criminal charges have been filed yet. 
Along with a slew of claims, the lawsuit pointed to the building's lack of "insufficient smoke alarms, fire extinguishers, sprinklers, exit signs and emergency lights."