Minn. governor signs $8M firefighter health act
Hometown Heroes Assistance Program includes an assistance program, critical illness insurance and health and wellness training
---
By Leila Merrill
ST. PAUL, Minn. — The application process for Minnesota pandemic "hero pay" opened last week, and on Monday the governor planned to gather with fire service leaders and legislators for a ceremonial signing of the Hometown Heroes Act.
The state legislature passed the act last year, and the governor signed it on May 3. Under the law, the Hometown Heroes Assistance Program has a budget of $8 million through 2023 to bolster Minnesota firefighters' health.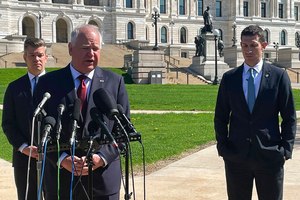 The legislation makes three resources available to all active volunteer, paid-on-call, part-time and full-time Minnesota firefighters at no cost to them:
MnFIRE Assistance Program with expanded emotional trauma resources and peer support; 
Up to $20,000 critical illness insurance policy; and
Ongoing health and wellness training.
Emergency responders and 14 other categories of frontline workers are eligible for the hero checks, according to the StarTribune. Eligible workers have until July 22 to apply and could receive $750 to $1,500 each, KARE 11 reported.
The Minnesota Department of Labor and Industry said that nearly 372,000 applications have been submitted.