Possible overdose patients ram Colo. fire truck before fleeing scene
The driver of the car reversed into the fire truck several times and escaped after firefighters tried to approach the vehicle, but backed away after seeing a gun
---
By Leslie James
The Gazette
COLORADO SPRINGS, Colo. — Colorado Springs fire crews responded to a medical call at 4:45 p.m. Sunday involving two people who were possibly overdosing inside a parked car at 5500 Powers Center Point.
When firefighters approached the vehicle, they saw one occupant had a gun and backed away.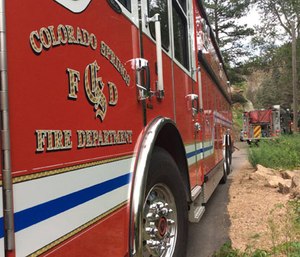 Police arrived on scene, near Research Parkway and North Powers Boulevard, to assist firefighters when the driver of the parked car reversed into the fire truck several times and escaped, heading west on Research Parkway.
No firefighters were injured, and the fire truck was left with minor damage and remained in service, police said.
Copyright 2018 The Gazette
McClatchy-Tribune News Service