Texas police searching for hit-and-run driver that seriously injured firefighter
The firefighter was responding to a crash Wednesday morning when he was struck by a driver who then fled
---
By Laura French
EL PASO, Texas — A Texas firefighter was seriously injured after being struck by a vehicle on Wednesday, and police are now searching for the driver who fled the scene.
The El Paso firefighter was responding to a crash at about 7 a.m. when he was struck by a truck or SUV, police said. Officials said they believe the vehicle has significant windshield damage and may be black in color, and are asking the public to contact authorities if they have any information about the hit-and-run.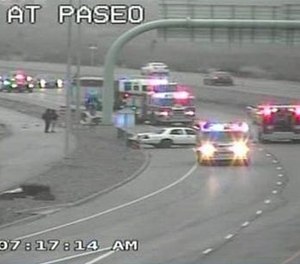 The firefighter, whose name was not released, is in stable condition and was moved to the ICU, according to the El Paso Fire Department. The department said his condition had improved Thursday night and that he had a tracheal tube removed after passing a respiratory test.
At approximately 7am this morning a firefighter was struck while at an accident scene. The driver who struck the fireman fled the scene. If you have information please contact us at 915-212-4080 pic.twitter.com/GeqxRL123f

— EL PASO POLICE DEPT (@EPPOLICE) February 12, 2020