Ex-firefighter in custody after taking hostages inside firehouse
Volunteer firefighter Paul Jordan, 25, held four firefighters hostage; he had just been fired and showed up distraught
---
ELKINS PARK, Pa. — A former firefighter is in police custody after taking several people hostage inside a firehouse Tuesday morning.
MyFoxPhilly reported that the incident began at about 10:50 a.m. at the LaMott Fire Company No. 1 in Elkins Park, Pa.
According to investigators, former volunteer firefighter Paul Jordan, 25, was holding four firefighters hostage in the station's basement at the point of 9mm handgun. Jordan had just been fired after a long-running dispute with fire officials and showed up to the firehouse distraught.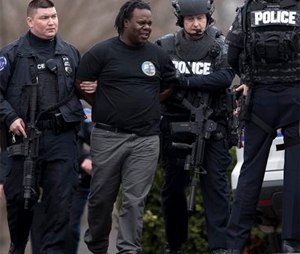 SWAT teams rushed in through an open door and cleared the first floor to stage negotiations.
"Before we received the call he did fire one shot into the wall," said Cheltenham Township Police Chief John Norris.
One hostage was freed shortly after they got there. Jordan later released the last three and gave up, according to the report.
Firefighter Jordan's mother saw the whole incident unfold on live TV.
"That's when I was like, 'Wait a minute.' I raised up, that's the place where my son works at. But I didn't know it was him until later on when they started bringing hostages out, and then I see a balled headed guy walking out with his hands up," his mother Alice Robinson said.
Police interviewed the hostages and took Jordan to a hospital for mental evaluation. Charges against him are pending.
There were no reports of any injuries.