7 DIY fire training props for departments on a budget
YouTube videos showcase creativity and ingenuity of departments across the country
---
Ask any fire department training officer what their greatest challenges are, and you'll likely get responses like:
Designing training that keeps our people interested.
Designing training on a limited budget.
Designing training props that we can build without a lot of money.
For this article, I tackled that third obstacle, looking for tips for how departments can design effective props on a budget. And what better place to start a budget-friendly project than the DIY world of YouTube videos?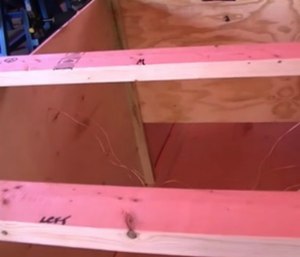 YouTube training video criteria
I spent a couple of hours watching YouTube videos that had been produced by fire service personnel who have developed some pretty interesting – and economical – solutions.
There are thousands of such videos on YouTube by firefighters and officers. So I developed some criteria (part objective and part subjective) for selecting videos to include in this article:
Did it trigger my "wow button"?
Is it an inexpensive option to build?
Is it relatively quick/efficient to build?
Can a fire department easily obtain a list of construction materials required to build the prop?
Would most fire departments looking for DIY props find it interesting?
I hope you'll agree that the following props scored pretty well using that scorecard.
7 DIY fire training props
Let's now review each of the seven DIY fire training props that should fit into most department budgets.
1. Cincinnati/Nance Drill: Literally hundreds of YouTube videos showcase props that have been designed for firefighter mayday rescue scenario training. What grabbed my attention about this one is not the prop itself (which was incorporated into a fire training building), but rather how the prop is used and the techniques used for firefighter rescue.
This video is part prop and part firefighter rescue training techniques for the rescue of a firefighter who has fallen through a floor or below grade. The video runs through three scenarios where a firefighter is physically able to assist in their own rescue; a firefighter is conscious but debilitated and requires assistance; and a firefighter is unconscious. This video is pretty sweet!
2. Palmer's Doll House: This is another one that's widely posted and viewed on YouTube, and for good reason. With all the attention and discussion regarding the control of the flow path in structural firefighting, this prop really nails it. And its portability makes it a great training prop that can be taken anywhere for use not just in firefighter training but also fire and life safety education programs.
In the video, East Haven (Connecticut) Deputy Chief P.J. Norwood demonstrates how to control the flow path through door control. During the demonstration, students learned how to limit the amount of air to control fire spread by opening and closing doors in a structure. Watch here. Additionally, plans for the Palmer's Doll House prep can be found here.
3. Firefighter Survival 2-Minute Training Prop: This is another one that I selected because of its portability and its utility. And the title is very accurate as well: The prop truly can be in use within two minutes of being unloaded from a pickup truck (and broken down in even less time!).
Although the prop is simple in design and construction, its designers show a couple of examples of how the complexity can be increased depending on the skill level of the firefighters using it. It really looks like the "ticket" for entry-level firefighter training and confidence building. Check it out here.
4. Rollover and Flashover Training Prop: I was really taken by how realistically this portable prop (about the size of a small office desk) enables the instructor to show students the entire fire progression sequence – and all without having the instructor and students in PPE and SCBA inside a smoky burn building.
The prop also provides the instructor with a great tool for showing students the impact that a water stream (and it only takes an ordinary garden hose) has on reducing the conditions preceding a flashover or rollover. Again, all the action happens in a fresh-air environment where everyone can clearly hear and understand what the instructor is teaching. Watch it here.
5. The Nine-Tire Drill: This was my favorite because of both its effectiveness and efficiency. What could be simpler than using nine automobile tires and small objects placed in the tires for a firefighter to search for and recover?
Another aspect I like about this one is that it's scalable. You can make the search area as large or small as it needs to be depending on the skill level of the firefighters working their way through the training exercise. Check out the video here.
6. Deadbolt Pull Prop: This is a great forcible-entry training prop because it gives the student the opportunity to break real locks.
And the turnaround time from one student to the next is extremely short, so an instructor can give each student more reps on different locks while using different tools. Watch it here.
7. Adams-Rite Spinout Prop: Who doesn't have commercial occupancies in their response district that are secured with Adams-Rite style locks (or similar locks made by other manufacturers)? And what department doesn't get called to such occupancies in the middle of the night because of a fire alarm or fire sprinkler activation, only to learn that the keyholder for the business is an hour away (or the building has an out-of-town owner and no keyholder is responding)?
This training prop, much like the previous one, is simple to construct and gives the instructor the capability to give each student more experience in developing the proper technique. Check it out.
Bonus DIY training videos
There are certainly a great many firefighters and instructors out there doing some fantastic work in designing DIY training props for departments on a budget. And then I came across Firefighter Dale Pekel and his Firefighter Portable Training Wall Prop.
This firefighter training prop can be used to practice a variety of firefighter skills and can be used for entry-level to advanced rescue and survival training classes. It's also extremely portable because no component is longer than 8 feet or wider than 4 feet, so it can be transported in the back of a pickup truck and set up anywhere.
But Firefighter Pekel is no one-hit-wonder when it comes to firefighter training props. He also designed and constructed The Pitched Roof Attachment and Denver Drill Attachment as companion props for the Firefighter Portable Training Wall Prop. How's that for DIY fire props on a budget?
And finally, in addition to videos for his training props, he's got an incredible selection of training prop video uploads from other feeds on his YouTube channel. Check it out!
Creativity and ingenuity on display
This list is certainly not exhaustive by any means, but I'd say a pretty good sampling of the creativity and ingenuity that firefighters worldwide are known for.
So, what are some of your favorite DIY firefighter training props? Share in the comments below or at editor@firerescue1.com.