Understanding the fire service role in disaster preparedness, response and mitigation efforts
Outlining the response responsibilities helps departments better prepare and train for large-scale incidents
---
Over the course of the last year, I've been engaged in an analysis of the role of the U.S. fire service with regard to disaster preparedness, response and mitigation. It was interesting to not only search out facts and figures on our fire service, but also the disaster statistics from sources like the National Oceanic and Atmospheric Administration (NOAA) and its National Hurricane Center. My research also included reviewing various open source documents that touch on the roles of the members of several departments and organizations, including the NFPA, U.S. Fire Administration, U.S. Forest Service and Department of Homeland Security.
I believe that a thorough review of the fire service role in disaster preparedness, response and mitigation can reinforce the importance of our responsibilities and better prepare us to manage large-scale incidents when they impact our community.
The ever-expanding and adapting nature of the fire service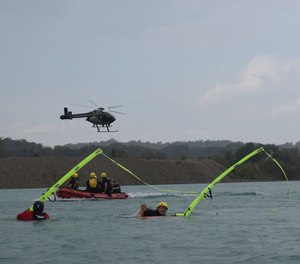 Over the years, the fire service has continually shown the ability to quickly adapt our roles to meet the ever-changing needs of the public. This adaptability has led us to expand our service from fire prevention and protection to prehospital patient care, including mass casualty incidents; hazardous materials response; technical rescue and extrication; and other specialized response areas.
In the United States and most developed countries, our firefighters are universally trusted by the citizens we serve. Most everyone knows that when they call 911 for an emergency, someone will respond to help, and more likely than not, it will be firefighters who are the primary responders who help resolve the emergency, subsequently building that public trust.
A carryover of that trust is seen in our work in the areas of community risk reduction (CRR). Our emergency work gives us credibility with the public that is not equally enjoyed by other services, so new challenges in public education, such as disaster preparedness, has become as much a part of our repertoire as our initial role in fire protection and prevention.
Fire service role in community disaster preparedness
We have well-established programs in smoke detector installation, fire inspections and code enforcement, monitoring wildfire- or forest fire-designated fire threat zones, but we also deliver other programs that go beyond just preventing fires.
A few of these are programs in fall prevention for the elderly or infirmed, child car seat installations, CPR, AED, "Stop the Bleed," and weather-related safety programs for flood, earthquake, tornado and hurricane readiness. It is only a natural extension that disaster preparedness, with an emphasis on citizen self-help, has been added to our CRR programs.
When developing CRR programs, it is important to incorporate a family disaster plan – inclusive of an alternative meeting place or shelter, first aid kit, blanket, flashlight, radio and extra batteries, two-day supply of water, and non-perishable food – no matter whether the concern is a wildfire, flood, tornado, hurricane or winter weather storm. Firefighters can emphasize that this equipment can be stored in a family "go-bag" that can be easily kept in a car or taken along in the case of evacuation.
Response efforts from the bottom up
The fire service is definitely the all-hazards response agency in the United States. To that end, local government relies on its organized fire service for the initial response to any disaster – natural or man-made. Unfortunately, most citizens still fail to realize the types of response we make besides fires. These include EMS, motor vehicle crashes and extrication, industrial accidents, explosions, water rescues, urban search and rescue (USAR) and mass shootings utilizing the response task force (RTF) concept.
We are also the principal advocates of the Incident Command System (ICS) used on every incident, every day – the tool that can be expanded up to and including the National Incident Management System (NIMS).
Unlike the approach in several other developed countries, the United States response effort is from the bottom up, meaning that whether it is a two-car motor vehicle accident with injuries or the initial response to a weapon of mass destruction, the response is immediately from local assets.
However, it is the fire service that also consistently establishes incident command and starts the process for conducting a needs assessment and requesting additional assets from local, regional, state or federal agencies. While a Unified Command should be established for large multi-discipline incidents, the expertise of the fire service from our routine use of ICS makes us the de facto lead in these incidents. All other levels of responding resources are built from the initial establishment of command by the first fire unit on the scene. Establishing command is the essential building block that affects the seamless and subsequent response by all other levels of government.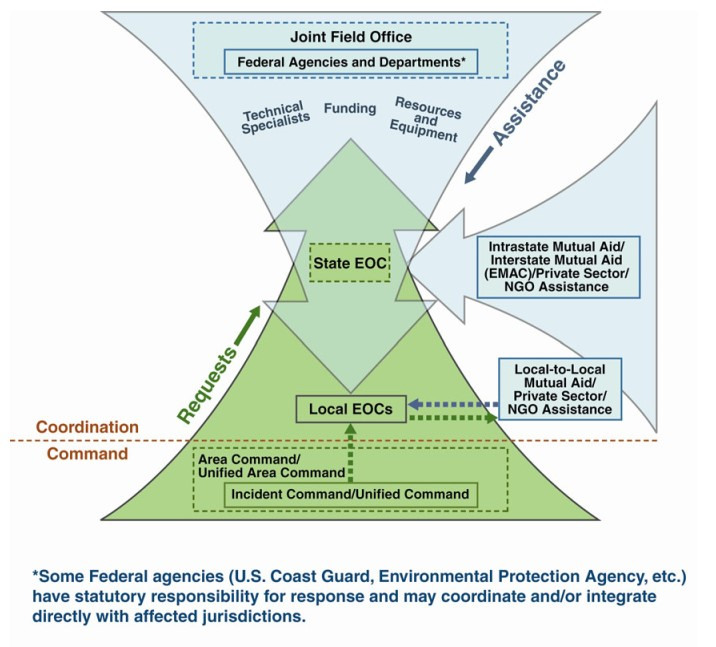 Mitigation efforts – first on scene
By the latest estimates, the fire service in the United States is composed of over 29,700 fire departments, with over 350,000 career firefighters employed within roughly 4,500 departments covering 49% of the population and approximately 30% of the country's area. And there are approximately 25,000 volunteer fire departments, with an estimated 850,000 firefighters covering 51% of the population and 70% of the area. Separately, federal and military firefighters serve in approximately 200 departments across the country.
These distributed forces again make the fire service the primary agency for response to over 32 million emergencies annually when citizens call 911 for help. Nearly 70% of these calls are for medical emergencies, with nearly 80% of all fire departments providing some level of prehospital medical care.
So it is also with natural or man-made disasters – the fire service will be the first on the scene in an attempt to bring the incident or emergency under control via rescue, containment, control and then mitigation. Just as with preparedness and response, mitigation falls back on our level of training, preplanning and preparation for natural and man-made disasters.
Unless pre-staged, federal assets could take up to 72 hours to arrive on scene and begin operations. In the interim, we, the members of the fire service, must rely on ourselves, our mutual aid and the available regional and state assets to handle the critical aspects of the incident.
At any disaster, the fire service needs to understand that there will be a long-term commitment on its resources. It may be days, weeks or longer until things begin to return to normal. While initially everyone will want to jump in to help, it may be best to consider splitting fire personnel into shifts that provide for both frequent work and rest cycles to keep firefighters operating efficiently.
From my experience, decision-making is very difficult after anyone has been working for 24 to 36 straight hours at an incident. Firefighters, including the chief, need to take frequent breaks before bad decisions cause injury or harm to firefighters.
Disaster aftermath and recovery efforts
While not directly a part of the fire service's responsibility, recovery is a long-term issue that requires input from all of the response agencies, including the fire service. During that period of recovery, the fire service needs to evaluate the lessons learned from their disaster response and how we can better prepare the community and our fire department for the next disaster.
While state and federal resources, such as FEMA, are on hand, the fire service should develop a list of needs (i.e., personnel, apparatus and equipment) and lobby for stronger building and fire codes to help make the community more disaster-resilient as homeowners and businesses begin to rebuild.
Fire officers need to remember that this new built-in resilience to disasters, whether from floods, wildfires or tornadoes, etc., can save the lives of not only citizens but also firefighters. Whatever the needs might be, ask the state and federal recovery teams to include those items as recommendations in their report. Then research all of the state and federal grant options, including but not limited to FEMA's AFG, Fire Prevention or SAFER grants, which may add to a department's future response capability.
Stay safe!