FRI 2019 Quick Take: Initial incident command for special operations
10 response considerations for high-risk/low-frequency events
---
The FireRescue1 Academy features the Firefighter 1 and 2 course "Incident Command"; Fire Officer 1 and 2 courses "Fire Incident Safety" and "Incident and Crew Management"; as well as "ICS for Single Resources and Initial Action Incidents"; and single-video courses "Reality Training: Setting Up Incident Command" and "Terms of Incident Command." Visit the FireRescue1 Academy to learn more and to schedule an online demo.
ATLANTA — You may have 10 years on the job but have never actually responded to an incident deemed a "special operations." That's why it's imperative to study the critical differences and challenges in the initial phases of any special operations response for the first-arriving incident commander.
In his Fire-Rescue International session "Initial incident command for special operations," Charles "Chuck" Ryan, assistant chief with the Fairfax County (Virginia) Fire & Rescue Department, tackled the response considerations for these high-risk/low-frequency events that can strain a department's resources.
Memorable quotes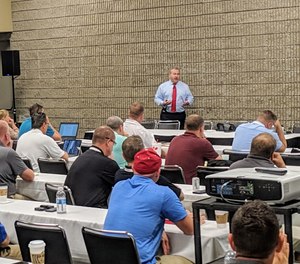 Ryan shared many notable tips related to incident command at special operations: 
"Having a unified command with the right people who can get you the assets you need is critical. This can't be an operation where fire stands there and says "We got this" – because we don't."
"[The urge to do something] is where our folks get in deep trouble. We see it with swiftwater rescues, especially in summertime storm season. We see a car in the water, and firefighters feel compelled to go into the water to do something. You as the IC gotta rein those horses in."
"You can't always see your personnel, which can be disquieting for the IC. They might be half a mile down the river. You need to work with your special ops folks to make sure they are painting a good picture for you so they can run the incident and not let the incident run you."
"You need to know who is where and doing what at all times. Practicing your accountability system is key to this, so that if something goes south, you know what to do."
"If you're the IC, you don't get a pass on [wearing proper PPE]."
"It's not always easy to get the PIO there, but you want the messaging to be right. Unless you have been a PIO, you don't really know what the messaging should be."
Key takeaways
Ryan outlined several critical differences and challenges related to special operations responses:
1. Defining special operations responses – Ryan explained the types of responses that qualify as special operations, noting that it's typically anything non-fire and non-EMS:
Water rescue
Above/below-grade incidents
Human entanglement in machinery/equipment
Large animal rescue
K9 activity (live search, wilderness, body recovery)
Marine ops
Explosive ordnance disposal
SCUBA
2. Unique factors – There are several factors that are unique to special operations responses:
Low frequency
High risk
Specialized resources
Lack of experience for ICs, who may have many years on the job before experiencing one of these events
Involvement of non-traditional partners
Unified command
Potential time delays
Longer term, sometimes "campaign" events
The urge to "do something!"
The "action" is often out of sight from the incident command post (ICP)
3. Command post considerations – Ryan delineated several factors to consider related to command post location and logistics:
Establish and announce the location
Try to get a view of the incident, but don't let that be overriding factor; you can be away from the incident
Stay there! (Use a runner if you need.)
Establish unified command early
Appoint an aide/deputy
Insist on personnel accountability (early and accurate)
4. Command safety – Ryan also highlighted the command considerations related to safety:
Address immediate concerns (e.g., rescue) to take them off your place
Designate a safety officer early
Assistant safety officers should be knowledgeable of the specific incident risks
Isolate and deny entry/control access by civilians, other responders, media, chief officers, etc. Don't let the problem get worse after we arrive!
Eliminate shock and vibration – request utility companies and shut down surrounding areas (highway, rail, construction site) as needed
Beware of overhead dangers
Weather forecast – be prepared and get regular updates as needed
Ensure anyone entering the operations area is using proper PPE for danger at hand
5. Resource needs and operations – There are a handful of resource-specific considerations for the IC:
Request specialized resources – consult with experts
Establish control zones (hot/warm/cold, Ops/CMD/Staging, etc.) and control access
Establish and enforce a staging area
6. From the seat of command – Ryan provided some additional basic initial steps for the IC:
Establish, prioritize and communicate clear SMART objectives to all responders
Use an appropriate command worksheet/board and a proper organizational chart
Develop an incident action plan (IAP)
Document everything
Build out the command structure (deputy IC, planning section chief, logistics section chief, liaison officer, PIO, technical specialists, and scribes/runners)
7. Command size-up – Ryan shared the key steps to conducting a size-up at a special operation incident:
Determine rescue vs. recovery – don't commit people to action when there's nothing to save
Ascertain/estimate the number of victims and their last reported location
Determine type of rescue – do you have the correct resources?
Ensure sufficient EMS transport capability – typically one unit for fire personnel and one for each potential viable victim
Identify and interview witnesses/information gathering
Assess resources needed – think long term (more than one operational period)
Obtain information to complete your IAP
8. Common incident support considerations – There are several other support factors that are sometimes overlooked in the process:
Apparatus needs (maintenance, fuel, etc.)
Scene lighting
Shelter for environmental concerns
Personnel rehabilitation/rest/work cycles
Food hydration, "comfort" issues
Support for yourself, your command staff and those supporting the operation (police, utilities, outside agencies, etc.)
SCBA cylinder refill
Compressed gases, mixed fuels, extra tools
Uniforms/PPE
Decon (gross, technical)
Mobile ICP or fixed facility (long term)
9. Special operations discipline tips – Ryan offered tips related to a handful of technical rescue disciplines:
Structural collapse: Ryan suggested getting a bird's eye view of the scene. He also advised that buildings that have collapsed tend to keep moving, so it's important to get a structural engineer to the scene.
Vehicle extrication with entrapment: Consider travel routes and apparatus placement, as well as whether you need heavy wreckers, cribbing or hazmat response.
Confined space: The biggest tip is to ensure that you don't commit untrained personnel to the space, as there is a high risk of them becoming a victim. Also, OSHA will need to see confine space entry permits
Swiftwater: Ryan implored attendees to not let their personnel go near moving water wearing structural gear.
10. Incident termination – Ryan explained that incident wind-down can be one of the most dangerous times of the incident, as people let their guard down. The safeguards need to stay in place, he said. He added that the demobilization plan should actually begin well before the incident is terminated, and someone should be thinking about how the teams will begin to disentangle themselves from the incident, return units to service and get personnel back to a state of readiness.
Safety first
Ryan concluded by noting that these incidents have a high risk of injury or death to fire personnel, so it's important to follow protocol. "Be patient. These things are going to take some time," he said.