Report on Md. FF's death spurs sweeping department changes
The 776-page report showed a lack of communication and organization at the scene contributed to Fire Lt. Nathan Flynn's death
---
By FireRescue1 Staff 
MARRIOTTSVILLE, Md. —  The Howard County Department of Fire and Rescue Services released a 776-page report detailing needed changes to the department and how Lt. Nathan Flynn's death could have been prevented.
In July 2018, the fire department responded to a 7-alarm house fire, the Patch reports. Flynn, 34, entered the home above where the fire had initiated and fell through the floor into the basement.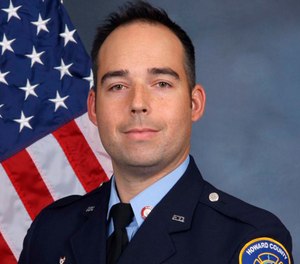 Following his death, the department formed an Internal Safety Review Board to investigate the incident. A year later, the released report states Flynn should not have been allowed in the area, and revealed that his mayday calls were being transmitted on a channel that was not being monitored.
According to the report, "the most critical decision during the 7005 Woodscape Drive incident that led to Flynn's death was the tactical choice for crews to enter a structure above a fire."
Flynn was a 13-year firefighter veteran, as well as a volunteer with the Susquehanna Hose Company. His death is the first line-of-duty death for the HCFR.
Flynn is survived by his wife and five children.
Howard County Fire Chief Christine Uhlhorn said the department is now undergoing a multi-year plan to increase safety. She said the department's goal is to work on creating an updated communications plan to follow during a call.
Read the full investigative report here.