Officials: Inmate firefighters a 'valuable resource' in Calif. wildfires
Capt. Larry Kurtz said the 500 inmates assigned to Canyon Fire 2 seed "the march toward our goal of 100-percent containment of this fire"
---
By Scott Schwebke
The Orange County Register
ORANGE COUNTY, Calif. — Wearing 60-pound backpacks, a platoon of prisoners marched Wednesday along a narrow trail at Santiago Oaks Regional Park in Orange.
Then the dozen or so inched their way up a steep hillside blackened by the devastating Canyon Fire 2.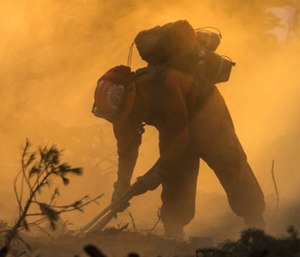 The mission for the minimum-security inmates from the Fenner Canyon Conservation Camp in Valyermo was unglamorous. But it's essential: Extinguish hot spots and clear brush so the blaze won't kick up again.
And though their freedom was fleeting, they relished the tedious work and the chance to be outdoors.
"It's a real good experience," said Deshan Heard, a 33-year-old inmate from Los Angeles serving a six-year sentence for robbery. "It's better than sitting (in the prison) yard. I like getting in there and helping people."
Fenner Canyon is among 42 conservation camps in 27 counties operated by the California Department of Corrections and Rehabilitation. It's north and west of Mt. San Antonio.
One aim of the camps is to support state and federal agencies with wildfires, floods and other natural disasters. Most of the camps are strategically located in rural areas so inmate crews can respond quickly to emergencies.
Nearly 500 inmates have been assigned to help fight the Canyon Fire 2, said Capt. Larry Kurtz of the Orange County Fire Authority.
"The inmates provide a valuable resource," he said. "It seeds the march toward our goal of 100-percent containment of this fire."
Inmates must volunteer to work in fire camps. They also must demonstrate an aptitude for firefighting, have minimum-level custody status, be certified as physically fit and complete two weeks of training.
Inmates who join fire camps have a day shaved from their sentences for every two days they work. They are paid $2 for each day in camp, and $1 an hour while they are on a fire line.
"Getting a $1 hour is huge (for inmates)," said Lt. William Mock, commander of the Fenner Canyon Conservation Camp.
The inmates work under the watchful eyes of corrections officers and very few attempt to walk away from fire lines, he added.
"I'm learning new skills," said Heard, who hopes to become a U.S. Forest Service firefighter when he is paroled in 2018.
Brian Thorne, a 33-year-old inmate from Pasadena, said the fire camp is an adrenaline rush and allows inmates to be of service.
"Usually we fight in jail," he said. "Now, we have weapons (firefighting tools) to cut down trees and help people."
Copyright 2017 The Orange County Register