Private jet goes off Istanbul runway, catches fire
The jet's two pilots, flight attendant and one passenger were able to make it off the jet on their own
---
Associated Press
ISTANBUL — A small private jet with four people on board ran off a runway while landing at Istanbul's Ataturk International Airport on Thursday and caught fire, Turkish media reports said. All four survived the accident, Turkey's transportation ministry said.
The plane had taken off from the airport for northern Cyprus but soon detected a technical malfunction and decided to abort the flight and go back, the state-run Anadolu Agency reported. It went off the runway while landing.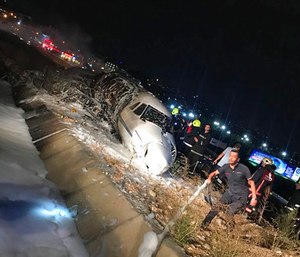 The jet's two pilots, flight attendant and one passenger were able to make it off the jet on their own, Anadolu reported. They were hospitalized, but their injuries were not considered life-threatening, Istanbul Gov. Vasip Sahin said.
Earlier, the private Dogan news agency had reported that the first pilot was killed in the accident.
Firefighters were mobilized to extinguish the fire, Anadolu reported. Flights at the airport were suspended, but soon resumed.
Last year, some 40 people were killed and close to 250 others were injured in a gun and bomb attack at the airport.
The airport is slated to be closed down when a new airport, currently under construction, goes into operation.