Video: Massive explosion in Beirut; at least 10 firefighters missing
Dramatic video shows the moment that a fire at a fireworks warehouse rocks the capital of Lebanon
---
Update 6:17 a.m. PST: At least 100 people have been killed and approximately 4,000 have been wounded in the massive explosion in Beirut, Lebanon Tuesday, according to the Associated Press. 
A hospital that was receiving COVID-19 patients was heavily damaged in the blast, and 16 patients and staff were killed, including four nurses, doctors said. The patients were evacuated and are being transferred to other facilities. 
Update 1:50 p.m. PST: CNN reports that at least 10 firefighters working for Beirut's municipality are missing after the explosion, according to the city's governor, Marwan Abboud.
Asked by a reporter if a fire caused the explosion, Abboud said, "We don't know. There was a fire, the [firefighters] came to put it out, then the explosion happened and they went missing. We are looking for them."
--
Heather Adams
MassLive.com, Springfield, Mass.
Social media posts captured a massive explosion in Beirut, Lebanon, Tuesday.
The explosion that rocked the capital of Lebanon was caused by a fire at a fireworks warehouse, news outlets reported.
According to CNN, the blast damaged properties across the city and wounded multiple people. News outlets reported that the explosion rattled entire buildings and was felt by residents in various parts of Beirut.
Social media users posted videos of the explosion.
Related Content:
Massive explosion rocks Beirut, Lebanon during fire at fireworks warehouse
———
©2020 MassLive.com, Springfield, Mass.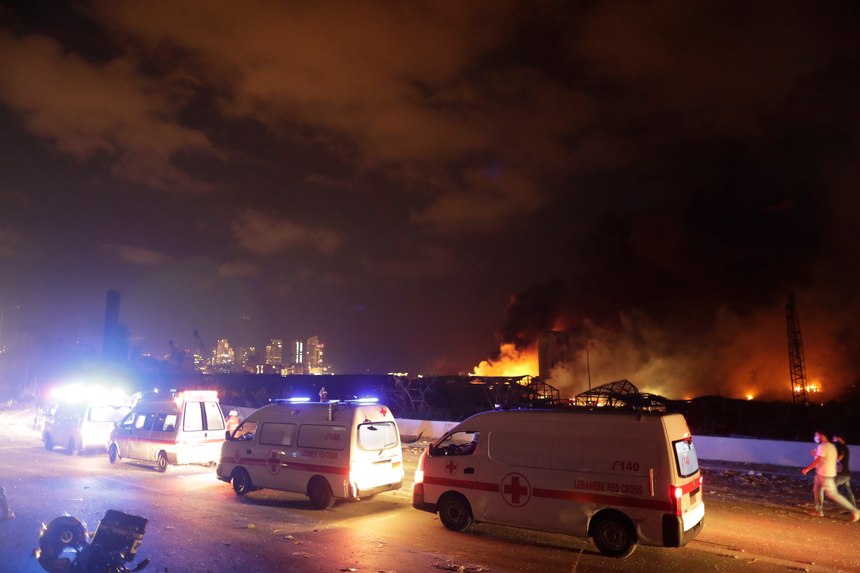 McClatchy-Tribune News Service