Detroit fire officials question promotion of paramedic with history of complaints
The paramedic currently being considered for promotion to lieutenant is currently under investigation for one of at least five complaints
---
By Laura French
DETROIT — A Detroit paramedic currently being considered for promotion to lieutenant has been the subject of at least five patient complaints, leading some fire department officials to oppose his promotion.
Paramedic Todd Sclafani is under internal investigation regarding one of the complaints that was filed against him earlier this month, according to the Metro Times. That complaint alleges Sclafani used a wheelchair to transport a patient with a serious head injury instead of stretcher, which would have stabilized his head and neck.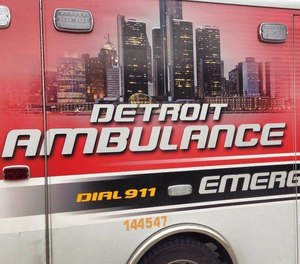 In 2016, a patient complained that Sclafani and another paramedic forced her to walk to an ambulance as she was doubled over in pain one day after sustaining head and spinal injuries in a car crash. The patient also said the paramedics didn't check her vital signs and questioned why she wanted to go to the hospital; investigators concluded in their report that both paramedics were "disrespectful, demeaning, and unprofessional" during the incident.
In 2017, an investigation into another complaint concluded that Sclafani and another paramedic committed "significant breaches in care provided" when they failed to give advanced life support to a woman with chest pain, difficulty breathing and a drop in blood pressure, and instead looked around her house and told her it was filthy. The woman later ended up in ICU.
Later in 2017, an investigator recommended charges against Sclafani and another medic for reportedly delaying treatment of a 74-year-old man who had a heart attack and giving him the wrong dose of medication. Last year, the paramedic also received a complaint about a patient receiving abrasions and bruises from a stretcher.
Detroit Fire Department Superintendent of EMS Sean W. Larkins told the Times that Sclafani was vetted through the promotional process and met the requirements for eligibility, and also said any previous disciplinary action that is not ongoing cannot be considered in promotions under department rules.
Detroit Fire Fighters Association Vice President William M. Harp also defended Sclafani and said he would make a good lieutenant.
"He spent years dedicated to providing advanced hospital care and has served hundreds of individuals within his role as a paramedic with the fire department," Harp told the Metro Times. "He's a good medic and has saved many lives."