Investigators begin probe at NY academy where firefighter died
Watertown Firefighter Peyton Morse, 21, was inside a 20-foot-long plywood tunnel and wearing an SCBA when he became unresponsive
---
Craig Fox
Watertown Daily Times, N.Y.
WATERTOWN, N.Y. — State and national investigators were at the state fire academy Wednesday as part of their investigations into what caused the death of city firefighter Peyton Lane S. Morse, who suffered a medical emergency while he was involved in a training exercise there in early March.
Investigators from Public Employee Safety and Health Bureau, or PESH, and the National Institute for Occupational Safety and Health, or NIOSH, were at the site Wednesday to "officially" begin their investigations into what happened, city Fire Chief Matthew Timerman said Thursday.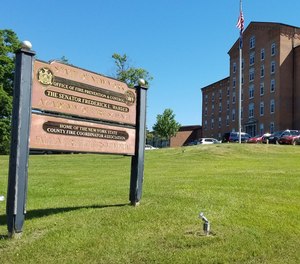 It was six weeks ago when the young firefighter was found unresponsive while wearing a breathing apparatus during a training exercise at the academy in Montour Falls, near Watkins Glen, on March 3. Mr. Morse, 21, died nine days later.
Last week, it was determined that PESH was going to conduct the investigation into what happened at the New York State Academy of Fire Science following discussions with the Occupational Safety and Health Administration, or OSHA, about PESH's responsibility to conduct the inquiry, Chief Timerman said.
OSHA had to "remind PESH" that it was responsible for conducting "multi-employer investigations" involving firefighters training at the state fire academy, he said.
"I'm glad it's been determined that there's an investigation opened over that workplace," he said, adding that he can now expect to have a thorough investigation.
There had been questions whether PESH would oversee an investigation into the incident at the fire academy. Without OSHA intervening, there would not have been an investigation by PESH into what happened at the academy, the chief said.
The state Labor Department press office declined to comment at this time because it's "an ongoing investigation."
The state attorney general's office recently determined that it will not conduct an investigation into the young firefighter's death, citing it would be a conflict of interest if the AG's office would have to legally defend the state fire academy.
State police in Horseheads, near Elmira in the Southern Tier, are investigating the circumstances of the young firefighter's death. Investigator Jason Wood declined to comment, citing it's a "pending investigation on our part."
On Thursday, Bradford County Coroner Thomas M. Carman said it would be another week before the autopsy report would be completed because he's still waiting for some test results to come back.
The test results will be turned over to the state police for its investigation.
Contacting them through an email, Chief Timerman reached out to fire chiefs in the state to let them know that the PESH investigation was proceeding and that their recruits who attended the training at the academy would probably be contacted, he said.
He has expressed frustration that there are so many unanswered questions and that the investigations were moving slowly. He also has expressed concerns about the academy's training culture.
On the day of the incident, 39 trainees were participating in mask confidence exercises in the state academy's gymnasium, located in a converted garage at a former monastery in Schuyler County. They were simultaneously going through different "evolutions," or stations, that were set up in the gym when Mr. Morse became unresponsive.
The young firefighter was inside a 20-foot-long tunnel made of plywood while wearing an air pack and a mask covered with tape when the incident occurred.
Mr. Morse was going through the tunnel that simulates what a firefighter would experience during a fire. Alarms on the self-contained breathing apparatus went off before the firefighter was found not breathing. He was immediately taken to a local hospital and then airlifted to a hospital in Sayre, Pa., where he later died.
The tunnel has been described as a collapsed building station, which contains PCB piping, wiring and copper piping to act as obstacles to make it more difficult to get through. Instructors press firefighters to work their way out of the situation.
On the day of the incident, some fire departments pulled their recruits out of the training at the academy with concerns of what happened. Some instructors also stopped their involvement in the training that day.
During mask confidence training week, recruits trained on pieces of equipment — known as "training props" — that included going through a maze and maneuvering through a corrugated draining pipe and the plywood tunnel. At least a couple instructors typically supervise each prop. The week is sometimes called "Hell Week."
The city also has retained a private investigative firm to determined what happened.
The firefighter's grandfather, Ronald Morse, and great-uncle, Stan Morse, recently picketed in front of the fire academy, demanding answers. They've blamed instructors for his death.
___
(c)2021 Watertown Daily Times (Watertown, N.Y.)
McClatchy-Tribune News Service