Reports: Missing hotshot was mourning fallen captain, may have been picked up by someone
U.S. Forest Service Firefighter Carlos Baltazar was reported missing on Sept. 24, one day before the memorial service for fellow Big Bear Hotshot Charles Morton
---
Darrell Smith
The Sacramento Bee
SAN BERNARDINO COUNTY, Calif. — An elite U.S. Forest Service firefighter who disappeared Sept. 20, after one of his firefighting comrades died on the lines of the El Dorado Fire burning east of Los Angeles, remained missing this week as authorities continued their search.
Carlos Baltazar, 35, is a member of the Big Bear Hotshots, one of the select, highly-trained fire crews the Forest Service calls "the backbone of wildland firefighting" in the U.S. The Forest Service established the elite Big Bear crew in 2001.
Baltazar was last believed to be northeast of Big Bear Lake, about 100 miles east of Los Angeles. His vehicle was located near Highway 18 and Delta Way. His backpack was 75 yards away from where his vehicle was parked, according to the San Bernardino Sheriff's Office, the San Bernardino Sun reported. Baltazar's family reported him missing Sept. 24.
But new leads emerged Monday. Sheriff's officials now say someone driving a Subaru may have picked up Baltazar.
Days before Baltazar was last seen, his captain, Charles Edward Morton, was killed Sept. 17 while battling the El Dorado blaze. The El Dorado Fire, now 93% contained, was ignited during a gender-reveal party at a park in Yucaipa, and has blackened nearly 23,000 acres. Full containment is expected Wednesday, authorities say.
Baltazar was among the crew that recovered Morton's remains, Los Angeles television station KTLA reported. Family members told KTLA that Baltazar had been depressed since his captain's death. Morton was a 14-year veteran firefighter with the San Bernardino National Forest, according to the U.S. Forest Service.
Morton's memorial service was Sept. 25.
———
©2020 The Sacramento Bee (Sacramento, Calif.)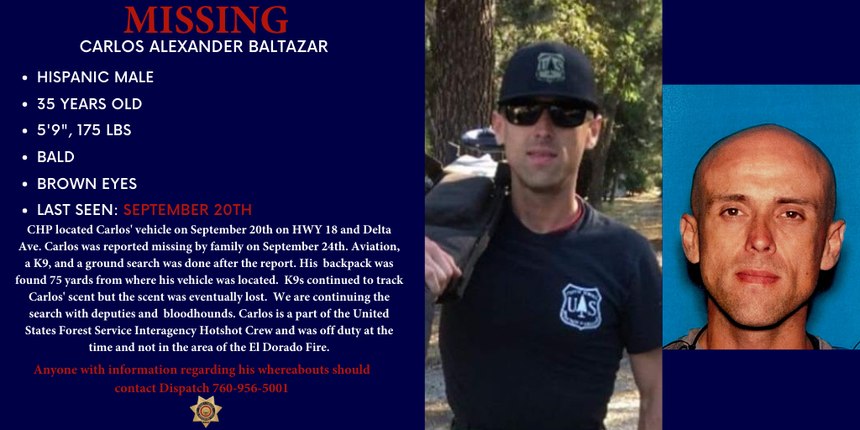 McClatchy-Tribune News Service