'Each one of you is a hero': President Biden addresses fire service leaders at USFA event
Biden's appearance marks the first time a president has participated in the Summit on Fire Prevention and Control since Harry Truman in 1947
---
By FireRescue1 Staff
EMMITSBURG, Md. — President Joe Biden addressed fire service leaders today during the U.S. Fire Administrator's Summit on Fire Prevention and Control, highlighting his administration's efforts to help the fire service and lauding firefighters for their continuous work in service to their communities and their country.
Introducing Biden, U.S. Fire Administrator Dr. Lori Moore-Merrell said, "No president has ever assumed the nation's highest office with such an affinity and personal connection with us," referencing his longstanding advocacy for firefighters and his time serving as co-chair of the Congressional Fire Services Caucus. Dr. Moore-Merrell also noted that Biden's appearance marks the first time a president has participated in the Summit on Fire Prevention and Control since Harry Truman in 1947.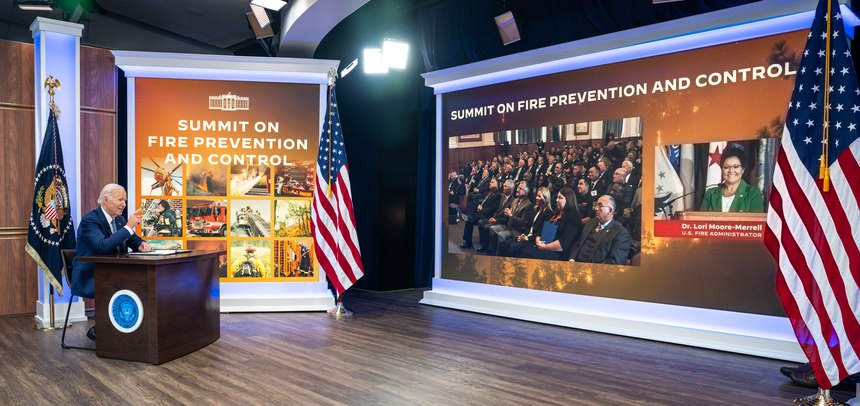 Biden shared stories of how firefighters saved the lives of his two sons following a vehicle collision in 1972 and later his own life when he was rushed to the hospital with a brain aneurysm in 1988.
"I owe you and so many other Americans owe you as well," Biden said, praising firefighters for serving as the "heart of the community," even if sometimes "people don't appreciate you until they need you."
With regard to staffing challenges, Biden noted, "The only thing that saves the lives of a firefighter are more firefighters," underscoring his ongoing support for the fire service during his time in Congress and now his role as president. He specified that his administration is doing everything possible to fund the fire service and provide firefighters the resources needed to do the job safety and effectively.
Biden then detailed some of the administration's efforts:
$350 billion investment in the American Rescue Plan to help keep first responders on the job;
2023 budget request to increase in federal firefighter grants of $320 million to support 1,200 firefighters, hundreds of emergency response vehicles, and thousands of sets of turnout gear;
Presumptive cancer legislation and efforts to speed cancer claims for firefighters;
Legislation to address the impact of toxic chemicals, including PFAS;
Federal Firefighters Fairness Act, which Biden said he is urging Congress to send to his desk, to help federal firefighters access workers' compensation resources;
Protecting America's First Responders Act, which extend the benefits under the PSOB program; and
Infrastructure Investment and Jobs Act that supports wildland firefighters through forest management, community resilience and technology.
The president also spotlighted efforts to prevent fires, highlighting the 100th anniversary of Fire Prevention Week and supportive legislation to reduce fire risk.
Biden concluded by acknowledging that while fires will always be a fact of human life, firefighters are the welcome sight coming to the aid of people everywhere.
The U.S. Fire Administrator's Summit on Fire Prevention and Control: State of Science event was held at the National Emergency Training Center in Emmitsburg and livestreamed online.
Learn more about the summit on the USFA website.