Pa. bloodhound fire dog, Sophy, dies at age 11
A member of the Greensburg Fire Department Bloodhound Team, Sophy was diagnosed with Cushing's disease caused by a pituitary tumor
---
By Jessie Forand
GREENSBURG, Pa. — On May 17, Sophy, a member of the Greensburg Fire Department Bloodhound Team, responded to her last call.
The 11-year-old dog died July 5, TribLIVE reported.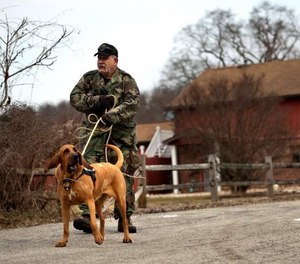 Sophy worked in the field – and lived at home – with her handler Elysia Battistella, of Hempfield, Pa.
Battistella's father, Lou, a veteran handler and bloodhound team captain, said the dog was a wonderful companion, and protective of children.
"They want to please," he said, and particularly when tracking, "they'll give you a big kiss at the end of the trail."
Sophy was diagnosed with Cushing's disease caused by a pituitary tumor. This caused her to lose weight quickly as her health declined.
Working with a dog who is also a family member, "moves the heartfelt pain of loss up a couple of notches," Lou Battistella said.
Sophy's handler Elysia will continue to train and deploy with the bloodhound team. She's currently working with Darcy, 6.