Family sues over death of N.Y. firefighter who became trapped in building
The mother of Spring Valley Fire Department 2nd Lieutenant Jared Lloyd is suing the assisted living facility, the village, building inspectors and two rabbis
---
By Leila Merrill
SPRING VALLEY, N.Y. — The family of a Spring Valley volunteer firefighter who died in a fire at a home for adults has filed a wrongful death lawsuit.
Spring Valley Fire Department 2nd Lieutenant Jared Lloyd's mother, Sabrail Davenport, is suing multiple entities, NBC New York reported. Those include the assisted living facility's management and employees, the Village of Spring Valley, building inspectors and two rabbis who had been performing a pre-Passover cleaning.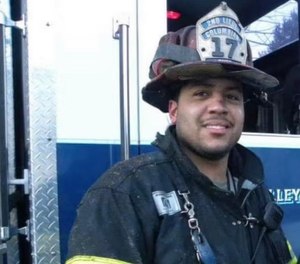 Nathaniel Sommer and his son, Aaron, have both pleaded not guilty to manslaughter and other felony charges in connection to the fire that killed Lloyd and a resident of the facility.
The lawsuit accuses the rabbis of "operating a 20-pound propane blowtorch on the premises without a permit, failing to conduct or maintain a pre-work check, failing to use shielding for sparks and heat from igniting the blowtorch, failing to provide a fire watch, and placing combustible materials unattended," NBC reported.
Lloyd rushed into the burning nursing home multiple times to help residents escape the fire. He became trapped as the building collapsed.
Meanwhile, criminal charges are pending against two local building inspectors for allegedly falsifying reports before the fire. They have pleaded not guilty.
---

More about Jared Lloyd
Video: President Biden awards Medals of Valor to 6 firefighters
"We can never fully thank you for your service or for your sacrifice, but today is an important day for the nation to give thanks for all that you do," he said
---