Fire service leaders share messages of support during COVID-19 emergency
Simple principles to help firefighters navigate the unknown and care for their physical and mental health
---
The COVID-19 national emergency has changed life as we know it for the near future.
While people across the country shelter-in-place, working from home or even temporarily close up shop, first responders and healthcare workers keep showing up to work, serving their communities and putting patients first.
This, of course, puts first responders on the front lines of a perilous situation. There is no doubt many of you will feel uncertain, anxious and even scared. Considering the extraordinary adjustments to day-to-day operations, you may question how the fire service will navigate this moment in history – and how you will get through this with your department, crewmembers, your family and friends.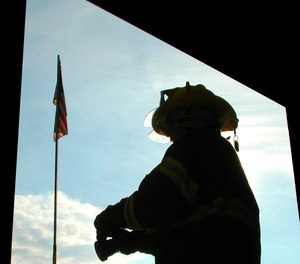 Reassurance and direction are helpful in times of uncertainty and unease. Here, several fire service leaders from the FireRescue1/Fire Chief Editorial Advisory Board, as well as FireRescue1/Fire Chief columnists, offer advice to you, the firefighters on the front lines, about to manage and move through this unique situation.
In this together – Marc Bashoor, Executive Editor, FireRescue1/FireChief; Chief, Highlands County, Florida
I am constantly in awe of the work our fire service and EMS men and women do every day. The integrity and dedication that our folks present in the midst of chaos, especially under the uncertainties of the COVID-19 outbreak, is amazing.
We are the tip of the spear, and the community not only expects, but deserves, our best. It is critical that our forces stay focused on the service we take the oath to provide, while also taking care of each other.
Family is a simple word with amplified meaning in times of seeming desperation. I pray for everyone's safety, and ask each one of you to take care of yourself, take care of your loved ones and each other. Take care of your family. We will get through this together.
Read more from Chief Bashoor: A message to firefighters: Serve with integrity, as the world is watching
Do the right thing – Ron Siarnicki, Executive Director, National Fallen Firefighters Foundation
The past few weeks have been some of the most trying and unique times I have ever experienced in my entire fire service career. I have heard all aspects of the potential predictions related to this national emergency and have come to realize a couple of things. 
First, the only constant that we are going to see in the near future is that the information we get on a daily basis is going to change on a daily basis, so don't get caught up in the hype.
Second, the potential of exposure will continue until we practice basic precautions that our parents told us as young children: Wash your hands, clean your clothes, stay out of the dirt and take your fingers out of your mouth. While I say this in jest, it is intended to make you smile and think about better times. 
Third, we are the fire service, and we are the best of the best. We will do our part to keep our communities safe, and at some point, this situation will subside and we will regroup to some level of normalcy. That level might be different from where it was before, but that's OK, as things have to change as we evolve as human beings. 
So, do your job, stay true to your beliefs and, most of all, do what you can, when you can, to do the right thing.
Find compassion – Jason Caughey, Fire Chief, Laramie County (Wyoming) Fire District #2
Be smart and take care of both your internal and external family. While on shift, utilize the time that you have to be role models to the younger members. Identify training opportunities that you might not have had time for. Be the leader and keep morale up both at home and at work. Reach out to your internal and external family to offer support to each other, and check on the elderly make sure they have what they need. Create an environment of sharing and support for your members and their families. Share those hard-to-get items. Find compassion and show our communities how truly great they are by being positive examples during this crazy time.
Read more from Chief Caughey: COVID-19 staffing impacts: How first responders can continue to serve
Pay attention to what is working – Ben Thompson, Lieutenant, Birmingham, Alabama
To the firefighters on the front lines: Pay attention to what is working and and what is not. If you are frustrated or fearful, ask yourself, 'What would I do to make this better?', and then commit it to memory. Most likely, this will not be the last outbreak we experience. During the next one, you might be the one making the big decisions for those with boots on the ground. Experience is a great teacher, as long as we do not forget what we learned.
Take care of ourselves, too – Robert Rielage, former Ohio Fire Marshal
Firefighters need to know that while many of the 'experts' refer to us under the broad definition of 'first responders,' it is essential for us to continue to impress upon our citizens that 70+% of the prehospital care in the United States, including response to COVID-19, is being done by highly trained, professional firefighter/paramedics or EMTs. During normal operations, we respond to over 30 million medical emergencies annually, and despite an increase in call volume, we will continue to be there for our citizens throughout the course of this pandemic.
In order to continue this service, we need to take better care of ourselves and our brother and sister firefighters. We need to take those necessary precautions, including body substance isolation through the proper PPE, including gloves, masks and gowns. But we also need to provide support for one another through informal, yet frank discussions, including our cares, needs and concerns for our family, loved ones and children.
Most of our members were not firefighters or officers during previous national emergencies, such as the attacks of 9/11, so these dynamic and fluid changes necessary during the COVID-19 crisis are new to them and to their family.
As chiefs, it is incumbent upon us to keep everyone at every station on every shift informed via teleconference on the latest developments from official sources on this national emergency, while canceling non-mission-critical training, meetings or events that could expose our personnel to the virus.
Trust the guidelines – Pedro Cáceres, Battalion Chief, Wayne Township (Ind.) Fire Department
Now more than ever teamwork will be the key to successfully navigating the circumstances in which we find ourselves. Mutual respect and trust between the leaders of the organization and front-line personnel must remain strong. Line personnel must trust that the recommended guidelines are in their best interest. The organization leadership must trust that the front-line personnel will make decisions as needed to ensure the best outcome for the members and the public. Together we will work our way through this crisis providing the best possible care our community.
Stay in touch – Jerry Brant, Chief (ret.) Hope Fire Company of Northern Cambria; Lexipol Senior Grants Consultant
From an operational standpoint, as always, let your training be your guide. If the little training voice inside you is saying this forcible-entry or this lift-assist looks like it could be someone who is contagious, listen to it and take all precautions. Take an extra minute to survey situations and don't rush into things. Remember, if your crew gets contaminated and you test positive, your crew – and maybe your entire station – is out of service. Also wash your hands, shower before going home or as soon as you arrive home, and clean your station so you aren't carrying this disease home with you.
Also, think about your older members and call them to see if they need anything. With senior centers curtailing activities, they may not have access to meals. They certainly don't want to go out, so they may need you to do some grocery shopping or run errands. It all helps, plus it lets them know that someone is there. If you have widows or widowers of past members, check on them and their needs.
At our station, we are cleaning, we are responding with reduced crews on non-emergency alarms, and our county has suspended all training activities and meetings. Stay safe, stay informed and stay in touch with each other.
Get ready to adapt – Mark van der Feyst, Firefighter, Woodstock Fire Department in Ontario, Canada
Diligence in personal hygiene, such as handwashing, is paramount. This is not the end of the world, so panic should not set in. Frustration may be present due to the inconvenience of this situation, but it will not be forever. Get ready to adapt to changes for the future as a result of this in terms of how we deliver our service.