Former NFFF board chairman earns 2020 Glatfelter Distinguished Service Award
Chief Dennis Compton was honored by the foundation for his leadership through critical moments for the foundation and the fire service
---
By Laura French
EMMITSBURG, Md. — The National Fallen Firefighters Foundation (NFFF) has named Chief Dennis "Denny" Compton as the 2020 recipient of the Arthur J. Glatfelter Distinguished Service Award. 
Compton, the former chairman of the NFFF Board of Directors, former assistant chief of the Phoenix Fire Department and former chief of the Mesa Fire Department in Arizona, was selected for his significant contributions in support of fellow firefighters, Fire Hero families and the foundation's missions throughout his leadership, according to a statement from the NFFF.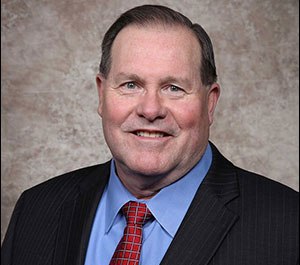 "We are grateful for his leadership and his many years of extraordinary service to our cause. He has helped to guide us through many critical moments and the impact of his efforts will long be felt throughout the Foundation and the fire service," current NFFF Board of Directors Chairman Troy Markel said in a statement. 
Compton who has 50 years of experience in the fire service, joined the NFFF Board of Directors in 2006 and served as chairman from 2008 to 2019. Under his leadership, the foundation expanded its services and programs in support of Fire Hero families and the fire service. He oversaw changes to the National Fallen Firefighter Memorial Weekend, increasing the programming available for Fire Hero families, and leveraged his relationships with the Congressional Fire Services Institute (CFSI) and International Fire Service Training Association (IFSTA) to help the NFFF build relationships with national fire organizations and expand the reach of its Everyone Goes Home and Life Safety Initiatives. 
Compton also led the start of the National Fire Service Occupational Cancer Alliance, which has kickstarted numerous efforts including AFG-funded research and awareness programs at fire departments across the country, and spearheaded the creation of the NFFF's affiliate First Responder Center for Excellence. Additionally, Compton reconvened a study of line-of-duty death classifications, starting a conversation about how deaths due to cancer and behavioral health are recognized.
The Arthur J. Glatfelter Distinguished Service Award is named after the late founder of VFIS, the first insurance company of its kind in 1969 to meet the insurance needs of volunteer firefighters. Glatfelter also co-founded the CFSI and served on the NFFF Board of Directors between 1995 and 2005. 
"Denny is a worthy recipient of this award, named for our founder and mentor," said Glatfelter Insurance Group President/CEO Tony Campisi. "Art's dedication to the NFFF has lived on through Denny's leadership and we congratulate him on this well-deserved honor." 
Throughout his career, Compton has also received several other awards and honors, including the George D. Post National Fire Service Instructor of the Year Award, the Mason Lankford National Fire Service Leadership Award, the Metropolitan Fire Chiefs Association Lifetime Achievement Award and the Dr. John Granito Award for Excellence in Fire Service Leadership and Management.