FRI Chief Chat: 'The future of the fire service is full of uncertainty, but that's OK'
East Hartford, Conn., Fire Chief John Oates encouraged chiefs to embrace several key strategies to lead successful fire departments into the future
---
By Janelle Foskett
The fire service is keeping the white three-ring binder industry in business. Why? Because fire service leaders love to develop plans and file them neatly in three-ring binders – binders that are then placed on a shelf where they proceed to collect dust.
That's the concern of East Hartford, Conn., Fire Chief John Oates, who tackled some of the challenges fire service leaders face, part of his Fire-Rescue International conference presentation "The Future Looks a Lot Like Today. Except It's Completely Different."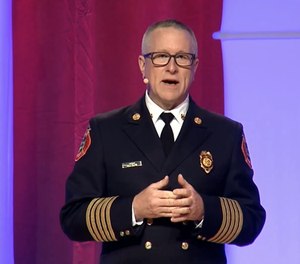 As part of the IAFC's Chief Chats series, Chief Oates outlined several priorities to help chiefs lead successful fire departments:
Embrace research: Oates emphasizes that fire service leaders have an obligation to listen to the researchers who have devoted years to studying why and how things happen – and how we can improve. "We must use that data to make meaningful change," he added.
Implement plans: We can't just put plans in a binder; we can only move toward the future by focusing as much on the execution of the plan as the planning itself.
Consider your mission statement: Oates posed a series of questions: What is your mission statement? How applicable is it? It is just something written on the side of the apparatus? Does it really have meaning? Has your mission statement changed as your mission evolved? It's vital that chiefs routinely check in on the department's mission statement to see whether the department is following and whether the statement is outdated.
Focus on DEI: Oates underscored that departments that are not focused on diversity, equity and inclusion are missing out on an opportunity to serve their community to the fullest. "We must be welcoming," he said, challenging chiefs to consider how inclusive their departments really are. "We have the ability to be absolute jerks to some of the people we work with. Don't be."
Ditch the anecdotes: It's all about data. When you need funding, chiefs need the data to support their claims. "Anecdotal evidence is no longer an acceptable way to explain what we do," he said. "The relentless pursuit of meaningful data should be part of your every day."
Oates concluded by underscoring that "the future of the fire service is full of uncertainty, but that's OK" – and the fire service has clearly proven that it can adapt: "We didn't really ask to get into hazmat; it just happened. We certainly didn't ask to be front and center to respond to a pandemic, but we certainly did."
Follow FireRescue1's coverage of Fire-Rescue International at firerescue1.com/fri.