The case for a fire service 'Stockdale course'
A fire service Stockdale course would require minimal changes to the Naval War College's "Foundations of Moral Obligation," using the best models of human beings under pressure
---
"The challenge of education is not to prepare a person for success, but to prepare him for failure." – Adm. James B. Stockdale, U.S. Navy
The Stockdale course is the informal name for "Foundations of Moral Obligation," an elective offered at the Naval War College in Newport, R.I.
It has been a difficult year for the nation. From the COVID-19 pandemic to the violence rocking many of our cities, the fire service is dealing with many challenges and dilemmas. Finding a course of action to guide and protect our communities, our members, our families, and ourselves is difficult at best and fraught with the potential of failure.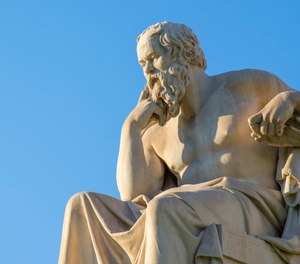 High-stress decisions are difficult because of the transient nature of the information we receive. That leaves us to fall back on our education and understanding of human nature. But for many of emergency services leaders, our education has been mostly technical, with a minimal amount of humanities and philosophy courses to our credit.
So how should the fire service address this issue? I propose that the National Fire Academy or one of the Fire and Emergency Services Higher Education (FESHE) institutions develop a course like the Stockdale course offered at the Naval War College.
Military Roots
Four decades ago, Adm. James B. Stockdale, then president of the Naval War College, attempted to answer a similar question facing naval officers. He understood that many officers were facing great ethical and moral challenges in the post-Vietnam War Navy. They held highly technical degrees but lacked any background in philosophy and the humanities to guide them in these decisions.
Stockdale was awarded the Medal of Honor for his leadership and bravery as a prisoner of war at the Hanoi Hilton. He credited his survival and successes later in life to the study of classic philosophy that he undertook as a 37-year-old graduate student at Stanford. As an older student, he believed there was something missing from his education, which led him to pursue philosophy.
Stockdale's idea was to distill this material into a one-semester elective at the Naval War College. It was called "Foundations of Moral Obligation." It still exists today and remains one of the most popular electives. Although some of the readings have changed, the format of the course remains nearly the same as it was when Stockdale first taught the course in 1979.
Military officers must survive and make good decisions under intense pressure and risk. Stockdale believed leaders need more than just technical know-how to navigate these situations. He and another Naval War College professor, Dr. Joseph G. Brennan, scoured the writings on moral philosophy, looking for the best models of human beings under pressure. They selected a diverse list that included readings from the Book of Job to Lenin.
Application to the Fire Service
I think the parallel exists for senior fire officers, and the application to the fire service follows naturally. A fire service Stockdale course would require minimal changes to the Naval War College reading list.
The original course syllabus included the following:[1]
Week 1: Introduction: The Prisoner of War and the Human Predicament, The World of Epictetus
Week 2: Book of Job: The Problem of Evil
Week 3:  The Socratic Example: "The Four Socratic Dialogues of Plato"
Week 4: Aristotle and the Nicomachean Ethics
Week 5: Law: Of Conscience and the State, Immanuel Kant and H.L.A. Hart
Week 6: Happiness as Utility, Justice and Fairness, John Stuart Mill and John Rawls
Week 7: Individualism and the Collective I: Ralph Waldo Emerson, Jean-Paul Sartre, and Albert Camus
Week 8: Individualism and the Collective II: Vladimir Lenin and Soviet Philosophy
Week 9: Science and Values: Jacques Monod and the Moral Ideal of Objective Knowledge, Ludwig Wittgenstein and the Ethic of Silence
Week 10: Return to the Beginning: The Stoic Ideal and the Ethic of the Military
Over the ensuing years, the syllabus has been updated to reflect contemporary issues but remains true to its objective of preparing officers for the moral and ethical issues that they will face as commanders and leaders. The current syllabus contains the following readings:[2]
Week 1: Greek and Roman Stoics, Epictetus, Stockdale's "Thoughts of a Philosophical Fighter Pilot"
Week 2: The Greek Tradition: Socrates and Plato, "Euthyphro," "Apology," and "Crito"
Week 3: Plato: "The Republic"
Week 4: The Greek Tradition: Aristotle, Nicomachean Ethics
Week 5: The Western Religious Tradition
Week 6: The Enlightenment: Immanuel Kant
Week 7: Life in Society: UN Charter, Declaration of Independence, U.S. Constitution, John Stuart Mill's "On Liberty," and Kant's "Perpetual Peace"
Week 8: Finding Meaning in One's Life: Leo Tolstoy and Elie Wiesel
Week 9: Non-Western (Hindu) Perspective: The Bhagavad Gita, early Christian Just War theory, and Karl Marlantes's "What It Is like to Go to War"
Week 10: Some Skeptical Challenges: Fyodor Dostoyevsky's "The Grand Inquisitor," Albert Camus's "The Myth of Sisyphus," and the Book of Job
Many firefighters hold bachelor and even master's degrees, but those courses of study are often loaded with technical education. There is precious little in the way of philosophy or humanities beyond any core curriculum such as freshman English/composition, Introduction to Sociology, and a government course or two. I never knew about Epictetus or Marcus Aurelius until I began to read about Stoicism (an ancient Greek school of philosophy). I recognized Plato and Socrates but had never read their work. In fact, despite being a history buff, I had never read Lenin, although I did read some Camus in high school.
This leads me to the proposition that the fire service needs a Stockdale course. We face many issues similar to those faced by military officers. We must carry out policies we may not agree with and follow orders that may appear misguided. Conversely, we must provide guidance and leadership to our members, city leaders, and the community. We need to be aware of how a person's upbringing, education, and social beliefs affect their understanding of an issue. A course of study like Foundations of Moral Obligation could create a more well-rounded officer cadre.
Hurdles to Overcome
The greatest challenge to creating and offering a fire service Stockdale course is finding the experts and talent to develop and teach the course. There are probably not many fire officers who hold a Ph.D. in philosophy!
Then there is the question of which institution could offer such a course. My first thought would be for the NFA to design and offer the course as post-graduate work for alumni of the Executive Fire Officers and Managing Fire Officers programs. On the other hand, one of the colleges that offers the FESHE program could develop the course.
A third challenge is the format of the course. At the Naval War College, Foundations of Moral Obligation is a 10-week resident course. What would it look like as a fire service course? Most assuredly it could not be 10 weeks and taught at the NFA. What does it look like as a distance learning course? Would it be 10 weeks long with a two-hour online session each week plus a final paper?
If nothing else, I offer this proposition to individual firefighters and fire officers who are working on degree programs: Try to find a way to broaden your course of study beyond the mandatory humanities curriculum. It may the best thing you can do for your long-term career. I wish I had known about the Stockdale course 40 years ago.
References
Brennan, Joseph G. (1992) Foundations of Moral Obligation, Naval War College Press, Newport, RI.
Gibbons, Thomas J. (2017) "Foundations of Moral Obligation," Naval War College Review: Vol. 70 : No. 3 , Article 8. Available at: https://digital-commons.usnwc.edu/nwc-review/vol70/iss3/8