Transitioning from the jump seat to the officer's seat
Leadership tips for fire service officers can make promotions easier on everyone
---
By Justin Adams
Promotional opportunities are an exciting time in a young man or woman's life in the fire service. It is the first official step in a leadership role and one that places a tremendous amount of responsibility on the shoulders of the person who is moving seats.
While this new transition seems difficult, it doesn't have to be, provided we all work and understand the principles of leading, managing and building trust with those who work with us.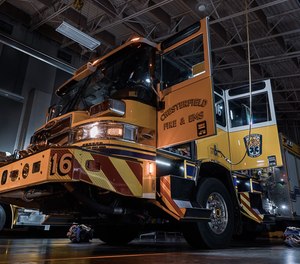 Following are some general tips that have served others well when making this new transition and moving from the jump seat to the officer's seat.
Leadership equals influence
Leadership is defined as the act of guiding and directing people. However, if we dig deeper, we often find that leading or leadership is the ability to get others to do something that they would not normal do or accomplish on their own or, as author John Maxwell states, "Leadership is about one life influencing another."
As we move seats in our career, the importance of adding value to those who work with us has never been more important. Your view may change, but the level of responsibly has only increased.
The new seat affords you the opportunity to lead and influence every day, so what will you do with it? We have an opportunity to lead and influence every time we communicate, whether in person, via email or various other types of communication mediums. Therefore, the opportunity exists every second of every day. What do you do when you have someone's attention? I have yours right now. Wouldn't it be a shame if I wasted it?
You use this time wisely, lead with your heart and manage with your mind. These small things will go a long way in making your move successful.
Set the example for the team
Moving seats allows you to set the tone and the example for what you and your shift will collectively accomplish in a shift, month and year.
Notice, that I have spoken in terms of your shift and team. There is no "I" in team, but as a TEAM – Together Everyone Accomplishes More – you will shine when your people and those who work around you are in the spotlight. You set the example by leading, being the first one to the apparatus, the first to do PT, the first to do house duties and station chores. They will want to model the behavior of your leadership style because you are modeling the behavior that you as a company officer expect.
As you move seats, be the first to do everything except eat; officers eat and shower last. It shows that you care about the mission, that your team comes first and then yourself. Set the example by being the first one on the battlefield and the last one to leave.
Accountability goes both ways
As you move seats, remember to whom you are accountable. Accountable to the organization, the men and women who you supervise, their families, your family and the fire service. Do not take this lightly and make sure that those who work with you hold you accountable.
Accountability starts by addressing the small stuff. If we hold people accountable inside the fire station, it is reasonable to think that the other stuff will fall into place with a little guidance from time to time. If people know you're going to address the small things, then the big stuff will be less likely to happen. Be accountable to them at all times, and never walk past a problem you can solve.
Trust is key for success
Building trust with your subordinates is the single most important attribute that you can achieve when moving seats, largely because you have developed some level of trust prior to participating in the promotional process. Your people have to trust you before they will follow you. Sounds simple, yet it can be difficult to achieve.
Trust starts by investing time, effort and energy into those who are on your shift. It begins by having meaningful conversations – what makes them tick, what ignites their passion, and where to do they want to go and achieve in their careers. These are must ask questions if you want to develop trust with your peers.
You can't just tell them you care; you MUST show them by being in the trenches, investing in their successes and being willing to hold them accountable for their actions, both good and bad.
Trust means having a difficult conversation to make the person better because you care about his or her success and failures. Trust means being critical of the conduct but never of the person. Trust takes time to gain, but only seconds to be lost or tarnished forever. People have to trust you in their most challenging times.
Former U.S. Secretary of State Colin Powell said that he would sum up leadership in one word: trust. You will know people trust you when they follow you if only out of curiosity. I can think of no better analogy the words of Powell related to the importance of trust.
[Read next: How lack of trust equates to loss of life in the fire service]
It's no longer about you
As you move to the front seat, make the most of your view. Communicate the mission, hold your peers and yourself accountable, and build a legacy of trust with those in your department. Remember that from this point forward, it is no longer about you; it is all about those who work with and around you. You will shine and be rewarded when those who work around you are in the spotlight. When things go right, they did it, and when things go wrong, you own it. Be the change agent in your organization, set the example and be the one who people want to follow.
Editor's Note: What tips do you share with new officers? Share in the comments below.
About the author
Battalion Chief Justin Adams is employed with Chesterfield County (Virginia) Fire and EMS, where he currently serves as the director of EMS. Adams has been affiliated with fire and EMS since 1998, including his time in the volunteer ranks before getting hired in 2004 with Chesterfield County Fire and EMS. He holds a bachelor's degree in fire administration and is currently pursuing a master's degree in leadership and management. Adams is a graduate of the Virginia Fire Officer's Academy, an EMT education coordinator and a certified Instructor III. Adams can be reached at Adamsjb@chesterfield.gov.