Detroit mandates first responders clean bloody scenes
The new requirement is angering union officials and baffling first responders who feel they're not trained to handle biohazard material in this manner
---
By News Staff
DETROIT — A new requirement by the city is forcing first responders to clean up bloody scenes.
The Detroit Metro Times reported that beginning March 6, all firefighters and paramedics are required to clean up blood from crime and accident scenes, according to the Mike Neven, president of the Detroit Fire Fighter Association.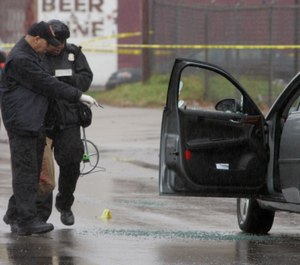 "I thought it was a joke when I first saw it," he said. "This is beyond insane."
The new rule requires blood and bodily fluids to be washed away with hoses to sewer drains, and first responders should collect bloody clothing other material in collection bags, which they have yet to receive.
Neven filed a complaint with the Occupational Safety and Health Administration (OSHA), listing the reasons why he feels first responders are not qualified to perform the new required tasks.
"Employees have received no training on blood and bodily fluid clean up and have no knowledge of proper procedures involved as this is not firefighting or EMS work," he wrote. "Employees have not been provided with adequate safety to dilute and flush bodily fluids down drains whether on public or private property."
According to the Metro Times, when a dispatcher inquired about the progress of an ambulance, a medic replied, "We're still cleaning up blood."
Fire Commissioner Eric Jones declined to comment until he could look deeper into the complaint.