Former Calif. FF-medic sentenced in DUI crash that killed fellow FF
Patrick Sullivan pleaded guilty in March to charges related to a motorcycle crash that killed Ryan Ferrara
---
By Leila Merrill
EL CAJON, Calif. — A former firefighter-paramedic with the San Diego Fire-Rescue Department who pleaded guilty in March to charges related to a motorcycle crash that killed Ryan Ferrara, 39, an engineer in the same department, was sentenced Friday, City News Service reported.
Patrick Sullivan, 38, pleaded guilty to gross vehicular manslaughter while intoxicated and DUI related to the 2020 off-duty motorcycle crash. His sentence is one year in jail and two years of probation.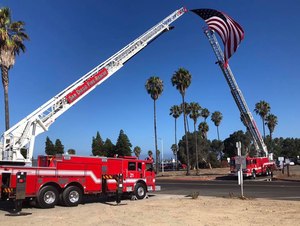 San Diego Superior Court Judge Robert Amador also imposed a four-year suspended prison sentence. Sullivan could serve that sentence if he violates his probation.
Sullivan spoke at the sentencing hearing.
"I have a brother and I have a son. And I took those things away from the Ferraras," he said.
Friends and family members spoke on Sullivan's behalf, including Ryan Ferrara's brother, Tim Ferrara.
"Ryan wouldn't want to see him locked up in a cell."