2019 year-end bill watch: Fire service-focused bills readied for action
Progress in 2020 expected for bills still in committee
---
Congress has full Article One powers under the Constitution to legislate in nearly any area of national life it pleases, although as seen most vividly throughout the fourth impeachment process against a U.S. president, separation of powers is always at play. As learned in high school government class, the president could refuse to sign a bill, but Congress may, by two-thirds majorities, insist on passage into statute by overriding their veto.
The First Session of the 116th Congress saw lots of legislation introduced but very few passed.
Worry not; this is the norm. Even the simplest legislative proposals may take up to a decade to craft, with stakeholders on board, and get to the floor, only then to meet the whims of the other body.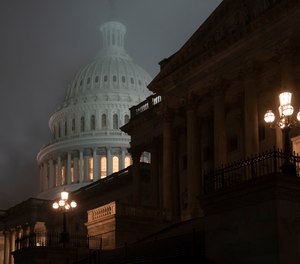 That said, following is a preview of public safety-related bills awaiting action as 2019 draws to a close.
Labor protections for first responders, 911 operators
The Federal Firefighters Fairness Act of 2019 by Rep. Carbajal (D-CA) addresses what veterans would call "service connection" (a showing that their illness began during or was caused by exposure or activity during military service) by creating a presumption in law the death or disability of federal firefighters resulted from their work, so long as they were in the federal fire service for five years, and diagnoses for range of illnesses from heart and lung disease to cancer, leukemia, lymphoma and other afflictions was made within 10 years. Tuberculosis, hepatitis and HIV would be presumed whenever diagnosed. Similar legislation was introduced in the Senate by Senator Tom Carper (D-DE) with eight other Democrats and Senator Susan Collins (R-ME) as cosponsors.
The 911 SAVES Act by former call-taker Rep. Norma Torres (D-CA) would classify public safety telecommunications as "a protective service occupation" under the Standard Occupational Classification System. The system is used by the Bureau of Labor Statistics (BLS) for jobs, income and other data collection. BLS now counts frontline – or "first-line" – first responders, corrections and law enforcement in this category. See BLS May 2018 figures for supervisors and fire prevention personnel nationwide. According to BLS, there were over 321,000 firefighters earning on average more than $53,000 a year at that time. Senator Richard Burr (R-NC) introduced a companion bill in the Senate, meaning that, if left unchanged, the bills could come law should they pass their respective chambers.
Pipeline safety addressed after devastating incidents
Legislation is sometimes drafted in direct response to incidents around the country. One example involved a series of explosions and over 80 fires in the Merrimack Valley of Massachusetts that killed one and forced 30,000 evacuations.
Introduced as the Leonel Rondon Pipeline Safety Act by Rep. Lori Trahan (D-MA) in the House and Senator Ed Markey (D-MA) in the Senate, the companion bills would direct the Transportation Department to require risk assessments of pipeline companies using cast-iron pipes for mains; procedural manuals for dealing with emergencies and responding agencies; "traceable, reliable, complete, and up-to-date records" for their distribution; and protocols for communicating directly with public safety and local government after a disaster. Under the bills, response plans must trigger those communications within 30 minutes of a pipeline emergency. Note: Rondon was a teenager killed in the Merrimack Valley incident.
Senator Tammy Duckworth (D-IL) is the lone cosponsor to sign onto the Protecting Our Infrastructure of Pipelines Enhancing Safety (PIPES) Act of 2019, authored by Senator Deb Fischer (R-NE), which was reported to the full Senate by the Commerce Committee in July. Aimed at liquefied natural gas facility safety, the bill would establish a National Center of Excellence for Liquefied Natural Gas Safety and Training. Like the Trahan-Markey bill, Fischer's legislation would also direct LNG operators to establish protocols for communicating with public safety and maintain procedures for emergency response.
Senator Maria Cantwell (D-WA) said she would "like to see issues such as whistleblower and civil penalties addressed before the Senate sees final passage of this legislation onto the House."
Chairman Roger Wicker (R-MS) said the four-year authorization for Pipeline and Hazardous Materials Safety Administration (PHMSA) programs would allow pilot programs for pipeline safety programs and increase oversight on rulemaking, calling it "a top priority of this Committee."
Read recent pipeline accident reports published online by the NTSB.
Tax code updates to incentivize private section and public safety training
The High-Rise Fire Sprinkler Incentive Act of 2019 by longtime first responder advocate Rep. Bill Pascrell (D-NJ) was referred to the Ways and Means Committee on which he sits as a senior member in October. Under the proposed legislation, any automatic fire sprinkler system retrofit as 15-year property for accelerated depreciation in the IRS code.
The Mine Rescue Team Training Credit by Rep. Steven Horsford (D-NV) would permanently extend tax credits to mine rescue team members for their training beginning with the tax year 2018 in jurisdictions with mines. First responders in those areas could claim 20% of training program costs or $10,000 for their preparation. The bill has sat before the Ways and Means Committee since March.
The Putting First Responders First Act by Senator Steve Daines (R-MT) would allow taxpayers in the "public safety enterprise" to exclude disability payments from their taxable income. Long sought by groups representing first responders, the bill would undoubtedly make a big difference for families affected by line-of-duty injuries.
Act addresses exposure to flame-retardant toxins
Passed during the last week of the First Session in December, the Safer Occupancy Furniture Flammability Act (SOFFA) would adopt the California flammability standard as the federal standard for upholstered furniture. The Senate could act on the bill in 2020.
Rep. Jan Schakowsky (D-IL) noted the long-term exposure to flame-retardant toxic chemicals: "Firefighters have long expressed concern," she said on the floor, "that they face additional risks due to their unique exposure by the combustion of flame-retardant chemicals that occurs when they are battling fires." Rep. Bob Latta (R-OH) said during abbreviated debate on the bill, which passed by voice vote, that the bill "provides necessary certainty to the industry and also safety for consumers who know no matter what their zip code is, they'll enjoy the same protections." Schakowsky concluded that "flame-retardant chemicals in furniture are all risk and no reward.
Stay tuned
Like other tax legislation including so-called "extenders" of sometimes hundreds of provisions in the tax code just before each calendar year ends, the tax bills could be included in such a vehicle with little notice to affected taxpayers until the next filing season. The First Session of each two-year Congress is dominated by the introduction of new bills, perennial bills and committee work. The Second Session will see hundreds more new bills and repackaged ones. Again, fret not. That's the norm.
One can say no more than ever to stay tuned.
About the Author
Michael Kirby is managing editor with Federal Network, a credentialed news bureau on Capitol Hill that provides digital video and information services to news organizations across the web.