Conn. town to vote on $5.4M proposal for new firehouse
Trucks barely fit into the current Canton fire station, which was not designed to include sleeping quarters, despite EMS personnel working overnight shfits
---
Don Stacom
Hartford Courant
CANTON, Conn. — Canton taxpayers will decide Nov. 2 whether to spend $5.4 million for a new firehouse that town officials say could help the fire department and ambulance service do its work better.
Town officials for several years have been pressing to replace the River Road firehouse in the Collinsville section, arguing that it's too small and has become outdated.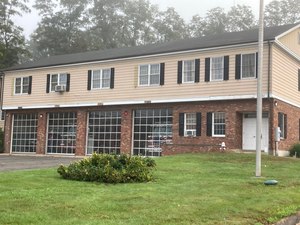 Since the station in Collinsville was built in the early 1970s, the department has added more and bigger trucks. Some barely fit into the building.
Also, EMTs now sleep there during the overnight shift, but the firehouse wasn't designed with sleeping quarters.
If voters approve the project in a referendum, the town plans to demolish the current building and construct a replacement that will be about 50% larger.
The Canton Volunteer Fire & EMS Department put up a video in September on Facebook — tinyurl.com/797h7dkp — to illustrate the building's deficiencies. Fire and ambulance crews get slowed reaching their vehicles during an alarm because of the station's narrow truck bays, according to firefighters.
"Tight quarters require responding EMTs to maneuver past firefighters gearing up to board a truck," the video says. "Firefighters and apparatus must navigate past structural columns and beams that block access."
The firehouse on River Road measures about 9,480 square feet. It has four truck bays, but only two are full size. The building has two floors, but without an elevator or ramps it has no second-level access that meets Americans With Disabilities Act requirements.
The plan is to build a 14,080-square-foot replacement with five full bays, better storage and a dedicated sleeping area for EMTs on the overnight shift. It would also have capacity for future expansion if necessary.
The town concluded in 2017 that the building wasn't adequate, and that modernizing and expanding it would cost more than $6.7 million.
Consultants and firefighters are recommending building the replacement station on the Dyer Little League softball field, which is right behind the current building. The town would use vacant land near the high school to build a new Dyer field.
Canton has two other firehouses, but it's not practical to simply close the Collinsville station and divide its equipment between them, town officials said. Doing that wouldn't meet National Fire Protection Association standards, and would lengthen response times for numerous areas in town.
Selectmen propose to pay for the work with 20-year bonding. The cost to the owner of a home assessed at $255,000 would be $85.41 for the first year, and gradually less in each of the following 19 years, selectmen estimated.
They contend that the town can afford this, particularly since its debt expense is lower than average for the Farmington Valley.
The town took several years and four separate votes before it agreed in 2016 to replace its public works garage. So far, however, there has been no sign of organized opposition to the firehouse referendum.
___
©2021 Hartford Courant
McClatchy-Tribune News Service