NH first responders to receive up to $300 weekly during pandemic
New Hampshire Gov. Chris Sununu announced full-time, part-time and volunteer first responders will be eligible to receive stipends allocated from CARES Act funds
---
Mia Summerson
The Keene Sentinel, N.H.
First-responders and local governments will be able to receive new benefits to help ease the burden the COVID-19 outbreak has had on them, Gov. Chris Sununu announced Monday.
Sununu said during a news conference that starting immediately, full-time police officers, firefighters, EMTs, corrections officers and other first-responders will be eligible for $300 weekly. Part-time workers in these fields, along with volunteer firefighters and EMTs, will be able to receive $150 per week.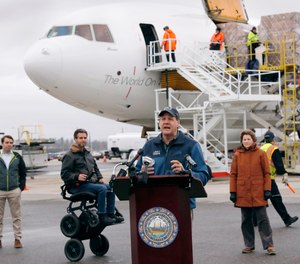 This benefit is scheduled to run through the end of June. Local departments can submit their personnel list to the state by filling out a form that is expected to be posted to the N.H. Department of Safety's website Monday.
"Our police, fire and EMS services risk their lives every day when they leave their house," Sununu said, adding that this risk is amplified during the outbreak by their potential exposure to COVID-19.
Sununu said the $25 million slated for these public safety personnel will come from the CARES Act, a $2.2 trillion federal relief package that President Donald Trump signed into law in late March to offset the economic impact of the outbreak. New Hampshire received $1.25 billion, which is being allocated by the Governor's Office for Economic Relief and Recovery.
Last month, the governor announced similar stipends for some health care workers, especially those at long-term care facilities. This followed reports of a number of outbreaks in these settings.
Also Monday, Sununu announced a new $40 million fund, also from CARES Act money, to provide aid to county and municipal governments to help them cover COVID-19-related costs. The funds can be used for expenses incurred between March 1 and Aug. 31.
Sununu said the advisory committees working within the Governor's Office for Economic Relief and Recovery have urged the state to prioritize the needs of its municipalities. The money will help bridge the gap between the expenses New Hampshire cities and towns have incurred and funding they will receive from FEMA, Sununu said.
However, the governor stressed that use of the funds is restricted to costs related to the pandemic and that they cannot be used to balance municipal budgets.
"These funds cannot, and are not designed to, fill and backfill revenue shortfalls," Sununu said. "[They] simply provide the relief so cities and towns aren't facing the burden of COVID-19 costs."
He said examples of what the money can be used for are municipal building cleaning, the increased costs of social services, equipment needed to facilitate working remotely and child care expenses for front line workers.
———
©2020 The Keene Sentinel (Keene, N.H.)
McClatchy-Tribune News Service