N.Y. bill authorizing tax breaks for volunteer FFs, EMS unanimously passes, heads to governor
"This legislation will add another tool for our members to use when recruiting and retaining volunteer firefighters and EMS providers," said FASNY's Michael Krummenacker
---
By Leila Merrill
Editorial Staff
ROCKLAND, N.Y. — Both the New York State Senate and Assembly passed a bill that would allow local governments to adopt a local law to exempt up to 10% of the assessed property tax value for volunteers who have been members of a volunteer fire department or ambulance service for at least two years.
Sen. Elijah Reichlin-Melnick and Assemblyman Ken Zebrowski were touting the property tax exemption bill Tuesday via a news release and a press conference at the Nanuet Fire Engine Company.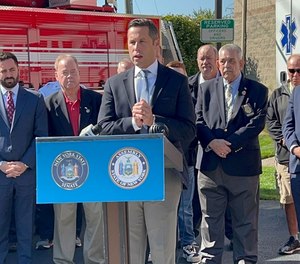 "FASNY and our state's volunteer firefighters would like to thank Senator Reichlin-Melnick and Assemblyman Zebrowski for continuing to support our dedicated volunteers through their advocacy and legislative stewardship on behalf of the volunteer fire service," said Firefighters Association of the State of New York (FASNY) President Edward Tase.
"This legislation will facilitate the opportunity for all eligible New York State volunteer firefighters and volunteer EMS providers to work with their local governments to pursue real property tax relief for the men and women who have committed to answering their neighbors' calls for help in an emergency," said FASNY Board of Directors member and Legislative Committee liaison Michael Krummenacker. "We believe the enactment of this legislation will add another tool for our members to use when recruiting and retaining volunteer firefighters and EMS providers."