Texas bill would make data 'throttling' in disaster zones illegal
HB 1426 would make it illegal to "impair or degrade" mobile data in disaster zones
---
By FR1 Staff
AUSTIN, Texas — Texas legislators are considering a bill that  would make it illegal for telecommunications companies to "throttle" mobile data in declared disaster zones.
HB 1426 would prevent data from being impaired by internet providers in disaster zones such as wildfires. The proposed legislation comes after Verizon was slammed for "throttling" California firefighters as they battled wildfires, a move they later said was a "customer support mistake."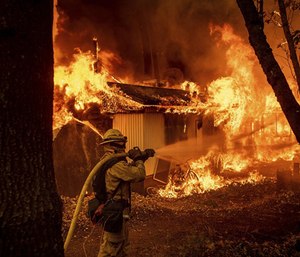 "We're strongly committed to providing reliable services to public safety users, especially during times of emergency. We're continually working with them in providing multiple options to best fit their needs."
In a statement released to Gizmodo, Verizon noted its policy is to remove restrictions in emergency situations and the incident in California was "an isolated incident" and "had nothing to do net neutrality."
The FCC voted to undo "net neutrality" rules last year. By eliminating net neutrality, broadband and cell phone companies can now favor their own services and discriminate against rivals such as Netflix, Amazon and YouTube -- as long as companies post their policies online. 
HB 1426 is one of more than 100 state bills that are aimed at protecting internet access, according to KUT.
Despite the apology and an admission that the throttling of data was a mistake, Verizon continues to take heat for last year's incident with the Santa Clara County Fire District. Recently, Verizon released a series of Super Bowl ads meant to highlight the work of first responders, which prompted further criticism. 
Earlier this month, the Communications Workers of America earlier this month released an informational video ad intended to highlight the benefits of FirstNet to public safety, that also takes a jab at Verizon and its throttling controversy. 
"FirstNet is the nation's first interoperable LTE broadband network specifically dedicated to public safety," the video says. "The network includes an exclusive, separate core for public safety with … no throttling and local control."
FirstNet is being built, operated and maintained by AT&T.