Vice President Kamala Harris announces $600 million to fix Calif. wildfire damage
The infrastructure package also includes $3.2 billion for wildfire prevention, $600 million for federal firefighter pay, and funds for wildfire response planning
---
Jeff Horseman
San Bernardino County Sun
SAN BERNADINO, Calif. — Vice President Kamala Harris visited a San Bernardino fire station Friday to announce $600 million in federal dollars to restore damage from wildfires that have burned millions of acres in California since 2020.
"We are our best when local, state and federal (governments) work together hand in hand, unencumbered by politics or partisanship," Harris said on a windy afternoon at the U.S. Forest Service's Del Rosa Fire Station just south of the San Bernardino National Forest.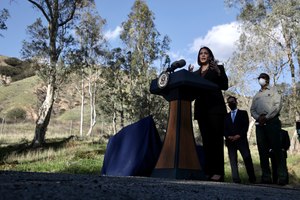 She singled out California's firefighters for praise, saying they "serve so selflessly, with such incredible courage and commitment to their community."
Harris recounted meeting firefighters battling wildfires even as their own homes were burning.
"These are folks who aren't saying 'My time is up, my shift is over,'" she said.
The $1 trillion-plus package sets aside $550 billion for transportation, broadband and utilities, including:
$110 billion for roads, bridges and other major projects
$66 billion for freight and passenger rail
$39 billion for public transit systems
"What we accomplished is historic," Harris, a Democrat, said in an interview after her speech. "Do you know how many administrations, Democrat and Republican, tried and failed to get a meaningful infrastructure law passed? We did it. And it's going to be about billions of dollars going into improving roads, and it's going to be about billions of dollars going into public transit."
The infrastructure bill also allocates $3.2 billion over five years for wildfire prevention, a key issue in Southern California. Almost 60% of the forests in the state are national forests, including the Angeles, Cleveland and San Bernardino national forests in Southern California. But that money is just a start. The Forest Service estimates it will cost $50 billion to accomplish its 10-year plan to reduce the dangers of wildfire.
Flying in and out of San Bernardino International Airport, after an aerial tour of the damage inflicted by last fall's El Dorado Fire, Harris appeared with U.S. Secretary of Agriculture Tom Vilsack.
Also on hand were Gov. Gavin Newsom; U.S. Sen. Alex Padilla, D- California; Rep. Pete Aguilar, D- San Bernardino; Rep. Mark Takano, D- Riverside; Assembly Members James Ramos, D- Highland; Sabrina Cervantes, D- Riverside; and Eloise Gomez Reyes, D- Colton.
"What a difference a year makes," Newsom said. "It was a different place when we were battling it out with the (Trump) White House" about wildfire prevention. "We're not talking now about a sparring partnership, but a working partnership."
The state is making a $37.6 billion investment in fighting wildfires as well, Newsom said.
Climate change, Harris said, "has almost everything to do with what we are seeing in terms of the crisis of wildfires."
"It is about recognizing that we cannot as a government or as a society, or people who care, only respond in reaction to a moment of harm or danger," she said. " ... To understand we have the tools to predict these wildfires ahead of time and once we are able to do that, does it not compel us to say what are we doing to prevent the knowable or the predictable?"
Besides $600 million to fix wildfire damage, Harris also announced $48 million for a federal landscape restoration program, including money for four California projects. The program funds efforts to reduce wildfire threats, create drought-resilient landscapes, protect water quality and enhance wildlife habitat.
The infrastructure bill also contains $600 million for federal firefighter pay; $1 billion for a new Community Wildfire Defense Grants Program; almost $2.4 million for hazardous fuels management; and money for wildfire response planning, improved wildfire detection capabilities and related efforts.
All but two of the 20 biggest wildfires in state history have occurred since 2000, with nine happening in 2020 and 2021, according to Cal Fire. Since 2020, fires have burned almost 7 million acres in California, killing 36 people and destroying more than 14,000 structures, Cal Fire reported. In contrast, 12 million acres burned in the state over the past 40 years, a Forest Service official said Friday.
"I am daughter of California ... so I bring perhaps, to this issue, a bit of personal experience," Harris said. "Growing up where we had droughts, growing up in these conditions ... Our family, in the last few years, we had evacuation orders because of wildfires."
The visit — Harris' first to the Inland Empire since becoming vice president — is part of her nationwide tour promoting the infrastructure package that, to date, is President Joe Biden's biggest legislative achievement. She is scheduled to fly to Milwaukee on Monday to further promote the legislation.
Republicans dismissed Harris' visit as political theater intended to distract from Biden's failures.
"I think it's great that Vice President Harris is visiting the Inland Empire," Rep. Ken Calvert, R- Corona, said in a Thursday, Jan. 20, statement. "It's just too bad she's not planning to get a first-hand look at how Californians are suffering under the many crises that have grown worse under the Biden administration" such as crime, high gas prices, border security and supply-chain snags.
In an emailed statement, Republican National Committee spokesperson Hallie Balch criticized the administration and the visit.
"As the Biden administration fails to provide relief for farmers experiencing record-high inflation on equipment, feed, and fertilizer and drought conditions continue to ravage the state, Vice President Harris and Secretary Vilsack's visit to tout Joe Biden's costly policies will fail to win over rural California families," she wrote.
During Friday's visit, at least one protester could be heard at the bottom of the hill where the station is located yelling with a bullhorn "Let's go Brandon," a veiled Biden insult. Many lined the road to watch the Harris motorcade leave the fire station, including someone with a sign thanking the vice president.
California, a state dominated by Democrats, offers a politically friendly backdrop for a visit promoting the Biden administration's top legislative accomplishment. Biden easily won California, including San Bernardino County, where he got 54% of the vote.
But Biden and Harris have seen their poll numbers plummet since taking office in a politically polarized nation. Assigned heavy lifts such as immigration, Harris' reputation has suffered. Polling aggregator FiveThirtyEight now estimates that about 35.8% of Americans approve of the job she's doing in Washington, down from 55.2% on Inauguration Day.
Harris said she still believes the administration's climate change agenda can make it through a divided Congress that, history suggests, will come under GOP control in midterm elections this year.
While the infrastructure bill passed, another key Biden agenda items, like voting rights protections, have stalled amid united Republican opposition and a refusal by Democratic senators Joe Manchin of West Virginia and Kyrsten Sinema of Arizona to do away with the Senate's legislative filibuster.
"The matter is too serious and too urgent for us to give up," she said. "I'm not giving up. The president's not giving up."
The vice president also addressed frustration from heard among young voters and Latinos at a lack of progress on immigration reform and canceling student loan debt.
"That's why we extended the deferral on student loans for three months, because we knew people needed more time," she said.
On immigration, "the first thing that we did is offer a proposal" when the administration took office, Harris said. "We need everyone to help us get this stuff through Congress. A lot of this is about getting it through Congress in terms of getting a comprehensive immigration law passed."
Born in Oakland, Harris, 57, served as San Francisco's district attorney and California's attorney general before being elected to the Senate in 2016 to succeed retiring Democrat Barbara Boxer.
After competing in the Democratic presidential primary, she made history in 2020 by becoming the nation's first female, nonwhite vice president. While Donald Trump and Mike Pence rarely visited California during their time in the White House, Harris has been back to the Golden State on several occasions as vice president, including a Bay Area stop last September to support Newsom's successful bid to defeat a recall.
___
Staff Writer Beau Yarbrough contributed to this report.
___
(c)2022 the San Bernardino County Sun 
McClatchy-Tribune News Service